Yemen conflict: Twin suicide bombings hit Aden base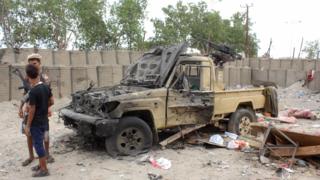 At least 10 Yemeni soldiers have been killed in a twin suicide car bomb attack on a security facility near Aden's airport, security sources say.
Gunmen also stormed the Central Security headquarters in Khormaksar district of the southern port city, sparking fierce clashes.
No group has said it was responsible, but Islamic State and al-Qaeda have carried out similar attacks before.
Aden is serving as the home of Yemen's government.
Pro-government forces and troops from a Saudi-led multinational coalition forces are seeking to retake the capital, Sanaa, from Houthi rebels.
They regained control of Aden last summer, but they have struggled to secure it.
About two dozen militants were involved in Wednesday's attack in Khormaksar, which acts as a bridge between the mainland and a peninsula where much of Aden lies and is the location of the city's international airport.
The attackers, who were reportedly wearing military uniforms, stormed the Central Security base in the morning after setting off a car bomb at its entrance then detonating another inside, a security source told the AFP news agency.
The military sent reinforcements to the scene, where they traded rocket-propelled grenade and small arms fire with the militants.
By Wednesday afternoon the troops had regained control of the base after killing several of the militants, commander Gen Nasser Sarie told AFP.
In May, at least 40 people, most of them army recruits, were killed in two bomb attacks in Aden that were claimed by IS.
The jihadist group was also behind three bomb attacks on pro-government forces on 27 June in the eastern port city of Mukalla that killed 38 people.
At least 6,400 people, half of them civilians, have been killed and almost three million others have been displaced since March 2015, when the Saudi-led coalition launched a military campaign to defeat the Houthis.
The conflict has also pushed the Arab world's poorest country to the brink of famine and left 82% of the population in need of humanitarian assistance.