Israeli troops 'mistakenly kill Palestinian bystander'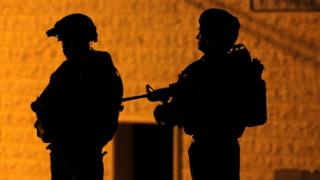 Israeli troops have accidentally shot dead a Palestinian bystander and wounded several others in the occupied West Bank, the Israeli military says.
A statement said the soldiers were responding after Palestinians threw stones and petrol bombs at vehicles on a main road, injuring three civilians.
Uninvolved bystanders were "mistakenly hit during the pursuit", it added.
Palestinians said the person killed was a 15-year old boy who had been inside a car when it came under fire.
An earlier statement issued by the Israeli military had identified him as an assailant.
'Returning from pool'
The Israeli military said an investigation had been opened into Tuesday's incident, which happened near the Palestinian village of Beit Sira, outside Jerusalem.
It began with two foreigners and one Israeli being lightly injured when their car was hit by stones on Route 443, a busy road that connects Tel Aviv and Jerusalem, Israeli media reported.
The Israeli military's initial statement said that "nearby forces acted in order to protect the additional passenger vehicles from immediate danger and fired towards the assailants".
"Forces confirmed hits resulting in the death of one of the attackers," it added.
Two suspects were also arrested, according to the statement.
Later, the Israeli military revised its account, saying that "after an initial inquiry, it appears that uninvolved bystanders were mistakenly hit during the pursuit".
The official Palestinian news agency Wafa and the mayor of the nearby village of Beit Ur al-Tahta identified the bystander who was killed as Mahmoud Badran.
The mayor, Abdul Karim Kassem, told the Reuters news agency that Mahmoud had been in a car with other passengers "returning from a pool in a village near us when they came under fire".
A hospital in the West Bank city of Ramallah told the Associated Press that another Palestinian was moderately wounded and three others lightly wounded.
The incident comes amid a months-long wave of violence in Israel and the West Bank.
Thirty-three Israelis have been killed in knife, gun and car-ramming attacks since October. More than 200 Palestinians - mostly attackers, Israel says - have also been killed in that period.
The assailants who have been killed have been shot either by their victims or by security forces as they carried out attacks. Some attackers have been arrested.
Other Palestinians have been killed in clashes with Israeli troops.