Syria conflict: 'Deadly air strike' hits market in IS-held town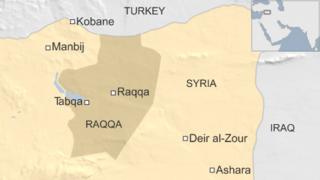 At least 17 civilians are reported to have been killed in an air strike on a market in an eastern Syrian town held by so-called Islamic State (IS).
The Syrian Observatory for Human Rights said eight children were among the victims of the attack in Ashara.
Syrian government and Russian warplanes were thought to have carried out the strike, the UK-based group said.
It came as the UN said a Kurdish-led assault on an IS stronghold in northern Syria had displaced 20,000 civilians.
A further 216,000 people could be uprooted if the operation to take Manbij by the US-backed Syrian Democratic Forces (SDF) continued, the UN Office for the Co-ordination of Humanitarian Affairs (Ocha) added.
Government advance
The Syrian Observatory said Ashara was one of several IS-controlled towns and villages in the eastern province of Deir al-Zour bombed by warplanes on Monday.
Although the monitoring group could not confirm who was behind the attacks, Syrian government forces have been fighting IS militants in the region.
On Friday, strikes by government warplanes killed at least 15 civilians in the IS-held area of Boulil, outside the divided city of Deir al-Zour.
Deir al-Zour links IS-held territory in Iraq with the city of Raqqa, the de facto capital of the so-called caliphate declared by the jihadist group two years ago.
On Monday, government forces backed by Russian warplanes took more ground from IS on the western edge of Raqqa province, Syrian state media said.
The Sana news agency reported that troops now controlled the village of Abu al-Alaj, in Hama province, about 40km (25 miles) south-west of the Tabqa airbase.
Ocha said the government advance towards Tabqa - at the other end of Lake Assad from Manbij - could also displace a large number of civilians.
The agency warned that as people attempted to leave IS-held territory, they might "face impediments to move freely to their place of choice to seek refuge".