How a Kuwait mosque bombing gave life to an Indian village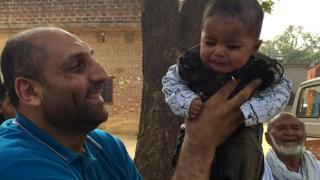 At his home in the al-Rumaithiya neighbourhood outside Kuwait City, Hisham al-Failli's 12-year-old son, Hassan, shows me his grandfather's walking stick.
He had been carrying it on the day he was killed in a suicide attack on the Imam al-Sadiq Shia mosque.
Inside a glass cabinet lie his spectacles, wallet and other belongings that had also been with him on that fateful day - carefully preserved memories of a much-loved grandfather and father.
A wall-hanging bears the names of the 26 people killed in the attack, which was carried out by the so-called Islamic State group on 26 June 2015, during the Islamic fasting month of Ramadan.
One of the names is that of 25-year-old Sayed Radhwan, an Indian national who had worked as a guard at the mosque.
Surprise response
Hisham al-Failli had been at the mosque at the time of the attack that claimed his father's life.
At the same time, a close friend, Dawood al-Naser, lost four cousins.
In the wake of the devastating and rare attack, it emerged that Mr Radhwan's widow, Tanjim Fatima, had given birth to a boy in their village in the district of Sultanpur in northern India.
It was the last 10 days of Ramadan, when many Muslims devote much time to prayer and charitable acts.
The two government employees were moved by the news and decided to turn to friends and family to collect money as a gift to the newborn for the Eid celebration - the festival marking the end of Ramadan.
When they sent out a WhatsApp message in the early hours of the morning calling for donations, the response was immediate, and by the following day had become overwhelming.
Mr Failli recalls: "We hadn't expected such generosity. We received so many calls and messages that in the end I parked my car in the street from afternoon until night so that people could come and give me their donations, while Dawood went to the homes of the people who couldn't come out."
Foreigners 'lacking support'
It was during the fasting hours and in the heat of July, when daytime temperatures normally reach the high 40s Celsius.
It soon became apparent that more than enough had been collected for the newborn, so Mr Failli and Mr Naser sought out the other non-Kuwaiti victims and their families, to give them a share of the donations.
Mr Naser told the BBC: "The government did a lot for all the families of the martyrs and gave each of them payouts, but the situation for the foreigners was different.
Aside from the government's assistance, the fact that they had left their countries to earn a living meant that they did not have the same support network of family and friends that Kuwaitis had, he explained.
With donations continuing to pour in from across Kuwait and abroad, Mr Naser and Mr Failli visited Tanjim Fatima's village of Walipur in India in December 2015 to pay for a house to be built on land owned by Mr Radhwan, and to buy another plot of land for his widow and son.
But they found themselves unprepared for what they saw.
"It was the first time we had seen this kind of poverty, there were no sanitary facilities and a lot of people didn't have running water," said Mr Naser.
'Continuing to Give'
On their return to Kuwait, the pair launched the Continuing to Give initiative to fund projects in Walipur and five other nearby villages, including schools, sanitary facilities and water pumps, as well as financial support to those in need.
A year later, they are happy to report that one school is nearing completion, while three more are being built, and that at least 15 wells and 33 lavatories have been installed.
Mr Failli and Mr Naser said that initially they had not thought beyond a gift of around 400 dinars ($1,300; £900) for the new baby.
Now that they have begun to make a difference, however, they say they hope to continue and perhaps build a hospital in the area in the future.
Mr Radhwan's widow told the BBC that she is happy that the projects are being built in her late husband's name.
"I don't know their language but I want to say thank you for their kindness," she said.