Iran hardliner Jannati elected head of Assembly of Experts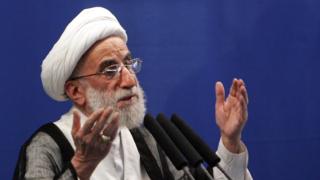 A hardline conservative has been elected chairman of Iran's Assembly of Experts, a powerful clerical body which selects the country's supreme leader.
Ayatollah Ahmad Jannati, 90, was one of the few hardliners to secure re-election to the assembly in February.
Reformists and moderates asked their supporters to vote tactically to stop most of them retaining their seats.
But Ayatollah Jannati's election is a signal that hardliners are still in control of the assembly.
The composition of the assembly is seen as significant given that Supreme Leader Ayatollah Ali Khamenei is 77 and has suffered ill-health.
The supreme leader is Iran's most powerful figure, and has the final say on all policy in Iran.
Ayatollah Jannati has been openly critical of moderate President Hassan Rouhani and his desire to open Iran to greater trade and investment and deepen dialogue with the West.
The hardliner is also the leader of the Guardian Council, an unelected body disqualified thousands of reformist candidates from standing in February's elections for the assembly and parliament.
He won the chairmanship of the Assembly of Experts on Tuesday with 51 votes, Iranian media reported.