Khat sales banned on weekdays in Yemeni city of Aden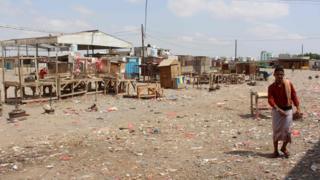 Local authorities in Yemen's second city of Aden have banned the sale of the herbal stimulant khat on weekdays.
Markets where khat leaves and shoots are sold were empty on Monday and pro-government forces prevented vehicles carrying them from entering the city.
The ban was prompted by complaints from residents and due to "security, social and health" concerns, officials said.
Past surveys have suggested that up to 90% of Yemeni men and 50% of women chew khat, which some see as a social ill.
The centuries-old practice of chewing the leaves for several hours a day has continued despite 14 months of civil war, which has pitted the government, backed by a Saudi-led multinational coalition, against the Houthi rebel movement.
Weekends only
Checkpoints have been set up around Aden to stop shipments from entering the southern port city, witnesses told the AFP news agency.
They said patrols were also roaming khat markets to enforce the ban on sales, which will now only be permitted on Thursdays and Fridays - the local weekend.
Merchant Abdu Hazaa told the Associated Press that some of his stock of khat had been burned, but that he had managed to smuggle the rest into Aden for sale on the black market.
Aden has served as the seat of the internationally-recognised government since loyalist and coalition forces drove the rebels out of the city last summer.
The Houthis and their allies still control the capital, Sanaa, and much of the country's north-west.
Last year, the authorities on the Yemeni island of Socotra banned the import and chewing of khat, citing the health risks and financial consequences of its use.
Tribesmen also tried to impose a ban on chewing khat in the south-eastern port of Mukalla after it was seized by jihadist militants from al-Qaeda.
Khat, which is banned in the US and much of the European Union, is classified by the World Health Organisation as a "drug of abuse that can produce mild to moderate psychological dependence".
Chewing khat releases chemicals structurally related to amphetamines, producing a mild high that some say is comparable to drinking strong coffee.
The drug can make pre-existing mental health problems worse and it can provoke feelings of anxiety and aggression.
It can also inflame the mouth and damage teeth, and there are concerns about the long-term risk of mouth cancers.