Syria conflict: Army 'storms mutinous prison' in Hama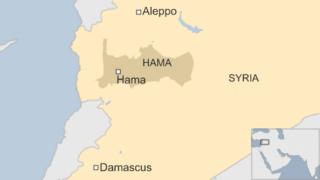 Syrian government troops have stormed a prison in the central city of Hama to try to put down a mutiny among some 800 inmates, monitoring groups say.
The troops fired tear gas, the UK-based Syrian Observatory for Human Rights said, but it is unclear whether the operation was successful.
The mutiny began on Monday when inmates took some guards hostage.
The prisoners reportedly objected to a plan to transfer some of them to the army-run Saydnaya prison near Damascus.
Troops surrounded the facility after the guards were taken on Monday, the Observatory said.
It said prisoners were also angry at delays to trials.
Some 46 prisoners had been released since the protest began, it said.
Human rights groups say thousands of Syrians are held in jails without charge.
Syria's main opposition grouping, the High Negotiations Committee (HNC), had earlier warned there could be a massacre of prisoners.
It said the inmates, who include political and jihadist prisoners, wanted better conditions.
More than 270,000 people have died in five years of conflict in Syria.
A nationwide, and very shaky, partial truce agreement between government forces and non-jihadist rebel groups has been in place since February.
It does not include so-called Islamic State or the al-Qaeda-affiliated Nusra Front.