Baghdad bomb targets Shia pilgrims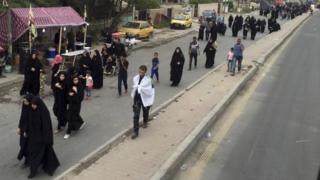 A bomb has exploded in Baghdad, killing at least 21 people, Iraqi police and hospital workers have said.
The blast, near a livestock market in the city's outskirts, is thought to have targeted passing Shia pilgrims.
They were on their way to a shrine in the Kadhimiya district to take part in religious commemoration ceremonies.
So-called Islamic State (IS) has said it was behind the attack. A statement said the attackers had used a truck loaded with three tonnes of explosives.
The claim was posted online on an official account used by the militant group.
IS has carried out many attacks on Shia Muslims, whom it regards as apostates.
More than 40 civilians have been killed in bombings in Baghdad over the past month.