Syria conflict: Peace talks delayed to let truce 'settle down'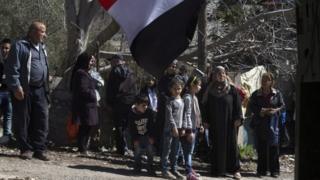 The UN's special envoy to Syria has said peace talks have been pushed back to 9 March to allow the cessation of hostilities to "settle down".
The previous round of peace talks last month collapsed after only two days.
The latest truce has led to a marked reduction in violence, but both sides have complained of violations.
President Bashar al-Assad insisted on an interview on Tuesday that the government "will do our part so that the whole thing works".
"We have refrained ourselves from retaliating in order to give (a) chance for the agreement to survive," Mr Assad told the German ARD TV station.
However, France has expressed concern about reports of strikes by Syrian government and Russian aircraft on areas controlled by mainstream rebels.
Also on Tuesday, Nato's most senior commander in Europe accused Russia of helping the Syrian government to create a refugee crisis as a weapon of war.
Referring to what he termed Russia's "imprecise" use of air power, Gen Philip Breedlove told a committee in Washington: "I don't know what military utility that would have other than to get people displaced and on the road and into someone else's problem set."
For its part Russia said on Tuesday it had counted 15 violations of the cessation of hostilities in the past 24 hours.
In the interview with ARD, Mr Assad said that a "full amnesty" was on offer for rebel fighters if they agreed to disarm.
"The most important thing for me, legally and constitutionally... (is) that you're not allowed, as a citizen, to hold machine-guns and hurt people or properties," he said.
Mr Assad is blamed for the vast majority of the civilian deaths among the 250,000 people who have been killed in the conflict, and it is not clear that many fighters would take up the offer of an amnesty.
Earlier US Secretary of State John Kerry said that all alleged violations of the cessation of hostilities would be investigated.
He said the US and Russia were working on a mechanism to ensure air strikes only targeted so-called Islamic State (IS) or al-Qaeda-linked al-Nusra Front.
The relative calm brought about the cessation of hostilities has encourage some opposition activists to stage protests against Mr Assad's rule.
Syria's conflict started as a wave of peaceful protests against Mr Assad in March 2011 which morphed into an armed conflict after the initial demonstrations were brutally suppressed.
Some of the protesters have been using slogans reminiscent of 2011's "Arab Spring" wave of protests in the region.
"Of course we're going to seize this opportunity (to protest) because the rest of the time there were constant barrel bombs and shelling," Shadi Matar, an activist in the town of Daraya near Damascus, told AFP.
As well as the death toll, the conflict has created millions of refugees and left hundreds of thousands of people in areas without basic supplies.
The UN and its partners have been stepping up deliveries of food, water and medicine, and plan to reach more than 150,000 people over the next five days.
They hope to help 1.7 million in hard-to-reach areas by the end of March.
The UN says more than 450,000 Syrians are trapped in 15 besieged towns and villages, while 4.1 million others are living in hard-to-reach areas.
---
Syria's civil war
Why is there a war in Syria?
Anti-government protests developed into a civil war that, four years on, has ground to a stalemate, with the Assad government, Islamic State, an array of Syrian rebels and Kurdish fighters all holding territory.
What's the human cost?
More than 250,000 Syrians have been killed and a million injured. Some 11 million others have been forced from their homes, of whom four million have fled abroad - including growing numbers who are making the dangerous journey to Europe.
How has the world reacted?
Iran, Russia and Lebanon's Hezbollah movement are supporting the Alawite-led Assad government, while Turkey, Saudi Arabia and Qatar back the more moderate Sunni-dominated opposition, along with the US, UK and France. Hezbollah and Iran have pro-Assad forces on the ground, while Russia and a Western-led coalition are carrying out air strikes.
---