BBC Arabic Young Journalist Award
BBC Arabic annually rewards the most promising person aged 18 to 30 with a prize that includes training, mentoring and equipment. The recipient will receive this support to develop a new documentary project, with the potential for it to be commissioned by the BBC. The end project also has the potential to air on BBC Arabic TV and screen in the following festival.
WINNER OF YOUNG JOURNALIST AWARD 2017:
Mohamed Jabaly, won for his feature length documentary Ambulance.
Ambulance is a first-person account of the most recent war in Gaza. Mohamed embeds himself with an ambulance to film the horrors of war.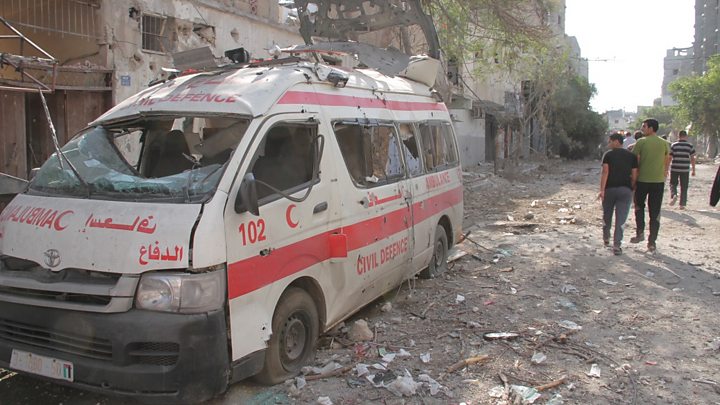 "Mohamed has gone beyond showing promising skills in Ambulance, he has delivered a very strong point of view of a war still fresh in our memory." - Sheyma Buali, BBC Arabic Festival Director
WINNER OF YOUNG JOURNALIST AWARD 2015:
Jumana Saadeh, won for her short documentary, Second Hand Refugee.
Through Second Hand Refugee, audiences hear Thawra, Farah and Ahmed tell their story of life without formal identity papers and their repeating history of displacement. "We saw passion, potential and skill. Second Hand Refugee is a complex story told well in 24 minutes." - Sam Farah, Head of Programmes, BBC Arabic
Read Jumana's 'About the BBC Blog' post: My experience winning BBC Arabic Young Journalist Award
In 2017, Jumana returned to present her film, No Kids Land, which was produced as a result of her training. No Kids Land explores the social, cultural and political issues behind the options available to unaccompanied Syrian child refugees in the Middle East. The children, in need of guidance and foster care, find themselves in precarious and dangerous situations between crime, control and neglect. There are around 2500 unaccompanied children in Lebanon who have no adult care as a result of being separated from their families due to death, disappearance, jail or otherwise.
WINNERS OF YOUNG JOURNALIST AWARD 2014:
In 2014, BBC Arabic awarded two young journalists who showed an in-depth and unique view of a current issue in their respective city.
Abdelfattah Farag won for his short documentary, Saber
Abdelfattah Farag is an Egyptian journalist. He made his first film, Saber, in 2013, documenting the life of one of Cairo's growing number of unofficial garbage collectors. For this film, Farag was awarded the 2014 BBC Arabic Young Journalist Award, receiving mentorship and training with the BBC Arabic bureau in Cairo. Shayma is his second film. Made with the support of his training and equipment, Shayma premiered at BBC Arabic Festival 2015.
The Opening Ceremony of the 2015 BBC Arabic Festival presented invited Farag back to present the film borne out of this reward. Abdelfattah blogged about his experience training. You can read his blog here.
'SHAYMA'
Shayma is a hard working woman in her 30's defying the odds of gender-based expectations. Her relationship with her colleagues are her closest friends and her boss shows her a lot of respect. She considers her workplace her home away from home. But her body is filled with visible scars acquired from work-related injuries from over the years. For 12 hours a day, Shayma sorts, collects and transports junk iron. She is the only female labourer in a male-dominated iron junk shop. In this short documentary, director Abdelfattah Farag explores her life, dreams and aspirations as the only woman in western Egypt working in this industry.
Amal Salloum won for her short documentary, Dr, Qasem:
Amal Salloum is a Syrian citizen journalist who has made a number of TV reports about the ongoing revolution there. Salloum was awarded for her short documentary, Dr. Qasem. Dr. Qasem is a portrait of a medical doctor who, between 2011 and 2013, worked clandestinely to help the wounded in Homs.
In June 2106, Amal recieved her training and new camera kit.