Saudi-Iran row: Iraq offers to mediate as tensions soar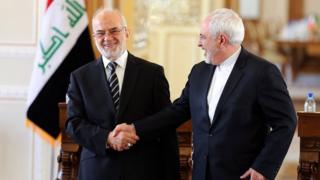 Iraq has offered to mediate between Iran and Saudi Arabia in the dispute sparked by the Gulf kingdom's execution of a dissident Shia Muslim cleric.
Foreign Minister Ibrahim Jaafari said if tensions were allowed to escalate, the entire region could be affected.
Iraq, which has a Shia majority, shares borders with the Shia and Sunni powers.
Meanwhile, Iran's diplomats have withdrawn from Saudi Arabia in response to Riyadh's decision to sever ties over an attack on its embassy in Tehran.
Djibouti also became the latest Saudi ally to cut relations with Iran, while Jordan summoned the Iranian ambassador to complain about "interference" in Arab affairs.
---
The Saudi-US-Iran triangle: How crisis reflects deeply fractured Middle East
Great rivalry explained: Why don't Iran and Saudi Arabia get along?
Spiralling tensions: Why crisis is 'most dangerous for decades'
Sheikh Nimr al-Nimr: Who was leading Saudi Shia cleric?
---
Iraq's foreign minister flew to Tehran on Wednesday for talks with his Iranian counterpart, Mohammad Javad Zarif.
At a joint news conference, Mr Jaafari described the execution of Sheikh Nimr al-Nimr as a "crime", but said Iraq was nevertheless ready to help "alleviate tensions between Iran and Saudi Arabia".
"We have been active from the early moments to lessen tensions, to prevent a disaster from happening that could affect the entire region," he added.
---
Iraq must tread carefully - Thomas Fessy, BBC News, Baghdad
It remains unclear what Iraq could achieve if its mediation offer was to be accepted by both sides - probably little. But Iraq certainly worries about growing tensions between Saudi Arabia and Iran.
Its Shia-led government is backed by Iran. However, the Iraqi authorities must tread carefully as they needs the country's Sunni minority to win the fight against Islamic State. Any wrong statement could spark a new wave of sectarian violence.
A Western diplomat based in the region warned the Iraqi authorities should not necessarily get involved in its neighbours' row. It is a risk for Iraq if they try to play a mediator role, the source told me on the condition of anonymity.
Saudi Arabia reopened its embassy in Baghdad on 1 January after a 25-year shutdown. The fact that they did not slam the door a few days later is considered a positive sign here. There may be disagreements but, at least for now, discussions can be held.
---
Iraq's Shia-led government has relied on Iran's help to counter the jihadist group Islamic State (IS), which controls large parts of the country's north and west. But it has also sought to repair relations with Saudi Arabia, which last week sent an ambassador to Baghdad for the first time in 25 years.
Nimr's execution has also raised the prospect of a fresh sectarian violence in Iraq, with powerful Iranian-backed Shia militias demanding that Baghdad cut ties with Riyadh, protests by thousands of Shia, and attacks on two Sunni mosques.
Bahrain meanwhile announced that it had broken up a Shia "terrorist" cell backed by the Iranian Revolutionary Guards and Lebanon's Shia Hezbollah movement.
Iran has denied accusations by Bahrain's Sunni ruling family of fomenting unrest among the island's Shia majority, whose protests demanding greater political rights in 2011 sparked similar demonstrations by Saudi Arabia's Shia minority in Eastern Province.
Funeral
Nimr was executed along with three other Shia convicted of terrorism offences in connection with the protests in Eastern Province, and 43 Sunni al-Qaeda militants.
The cleric's brother told the Associated Press that he planned to hold a funeral for him on Thursday, even though the Saudi authorities have buried his body at an undisclosed cemetery.
Hundreds of people have reportedly been marching nightly in protest at Nimr's execution in his predominantly Shia home district of Qatif.
"People are angry. And they are surprised, because there were positive signals in the past months that the executions would not take place. People listen to his speeches and there's no direct proof he was being violent," a local community leader told the Reuters news agency.
---
Sunni-Shia divide
The split arises from a dispute soon after the death of the Prophet Muhammad in 632 over who should lead the Muslim community
Sunnis are estimated to make up between 85% and 90% of Muslims
Although the two branches have co-existed for centuries and share many fundamental beliefs and practices, differences lie in the fields of doctrine, ritual, law, theology and religious organisation
Sunnis and Shia: Islam's ancient schism
---