Kuwait politician Nabil al-Fadhl dies in parliament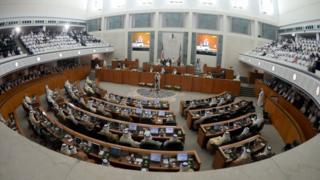 A Kuwaiti politician, Nabil al-Fadhl, has died during a session of the country's parliament.
The 65-year-old collapsed suddenly while at his seat. Other MPs gathered round and the health minister attempted to resuscitate him.
Mr Fadhl was also a journalist, using his newspaper column to criticise Islamists as well as other politicians.
The speaker suspended sessions for the rest of Tuesday and Wednesday in tribute, reports say.
A Kuwaiti flag was seen draped across Mr Fadhl's vacant seat. It is not clear yet how he died.
An independent MP, Mr Fadhl caused controversy earlier this year by calling for a ban on alcohol in the majority Muslim country to be lifted.