IS conflict: Turkey withdraws some troops from Iraq camp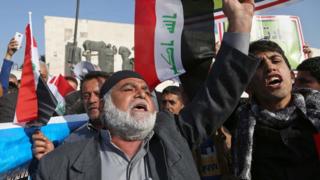 Turkey is withdrawing some of its troops stationed at a base in Iraq, the country's state-run news agency says.
Anadolu quoted military officials as saying a 10 or 12-vehicle convoy had left Bashiqa camp and was moving north.
Turkey has deployed troops near the city of Mosul, which is controlled by the jihadist group Islamic State, since 2014 to train Iraqi Kurdish forces.
But the arrival of 150 personnel earlier this month was heavily criticised by the Iraqi government.
Baghdad said the deployment had been carried out without consultation and violated national sovereignty and international law.
It called on the UN Security Council to demand that Turkey withdraw its forces.
Ankara defended the move as routine troop rotation at an established camp, as part of an international mission to train and equip Iraqi forces to fight so-called Islamic State (IS).
But on Friday, Turkish Prime Minister Ahmed Davutoglu's office said it had decided to reorganise its military personnel at Bashiqa following talks with Iraqi officials.
Monday's troop movement was part of the "new arrangement", a Turkish military source told the Reuters news agency.
It is unclear whether the withdrawn troops are returning to Turkey or will remain in Iraq.
The Turkish government enjoys close relations with semi-autonomous Kurdistan Region in Iraq.
But it considers the Syrian Kurdish Democratic Union Party (PYD) - whose Popular Protection Units (YPG) militia is a key ally of the US-led coalition against IS - as an enemy because it is an offshoot of the banned Kurdistan Workers' Party (PKK).