Syria conflict: MSF denounces hospital barrel bomb attack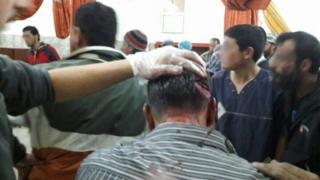 Medecins Sans Frontieres has condemned an "atrocious" barrel bomb attack on a hospital in a rebel-held town in Syria on Saturday that killed seven people.
The medical charity said the attack in Zafaraneh was a "double tap" - an initial strike followed by a second, deliberately timed to hit medics.
The first bomb struck a populated area and the next three landed beside a hospital where casualties were taken.
Parts of the hospital, which MSF supports, were destroyed.
Syrian President Bashar al-Assad has denied that his forces drop barrel bombs - oil barrels, fuel tanks or gas cylinders packed with explosives, fuel, and metal fragments - but their use has been widely documented.
'Calculated destruction'
MSF said the first barrel bomb was dropped from a helicopter on a populated area of Zafaraneh, to the north-east of the city of Homs, on Saturday morning, killing a man and a young girl and wounding 16 other people.
Soon after the casualties were admitted to the town's hospital, another barrel bomb landed next to the facility, causing damage to the kidney dialysis unit.
Then, 40 minutes later, when the wounded from the first bomb were being treated, two further barrel bombs were dropped right by the hospital's front entrance, MSF added.
Those bombs killed one bystander and wounded 31 patients and medical staff, including two paramedics working for the Syrian Civil Defence rescue service.
Five of the most critically wounded patients from the bombings subsequently died while being transferred to nearby field hospitals, according to the charity.
"This bombing shows all the signs of a double-tap, where one area is bombed and then a second bombing hits the paramedic response teams or the nearest hospital providing care," said Brice de le Vingne, MSF's director of operations.
"This double-tap tactic shows a level of calculated destruction that can scarcely be imagined."
MSF said it was offering support to repair or relocate the hospital, which provided care to 40,000 people, and was preparing to send essential medical supplies.
In a separate development on Tuesday, the Syrian government was reported to have struck a deal with rebels to end the fighting in an area of the city of Homs.
The Homs provincial governor said it had been agreed that rebel fighters would evacuate the al-Wair district, the last under their control. The rebels would leave in a series of withdrawals over the next two months, he added.
In return, government forces will halt their shelling of the area and end a siege.
Under a similar arrangement the rebels pulled out of other parts of Homs last year.