Russian plane crash: Bomb may have downed airliner, US and UK say
Intelligence suggests the Russian plane that crashed in Egypt killing all 224 people on board may have been brought down by a bomb, US and UK officials say.
But they say they have yet to reach a formal conclusion.
Britain earlier suspended flights to and from the resort of Sharm el-Sheikh, from where the flight had departed.
Egypt has dismissed claims by militants linked to Islamic State (IS) that they brought down the plane.
Russian experts say it is too early to say.
Separately on Wednesday, Egyptian officials said the cockpit voice recorder of the Metrojet Airbus 321 was badly damaged in the crash.
However, they managed to extract information from the flight data recorder which is ready to be analysed by investigators, Egypt's Civil Aviation Minister Mohamed Hossam Kamal said.
Live updates: UK-Sharm flights grounded
Sinai Province: Egypt's most dangerous group
The plane, bound for St Petersburg, crashed in Egypt's Sinai desert just 23 minutes after take-off from Sharm el-Sheikh on Saturday.
Most of those on board the plane, which was operated by Russian airline Kogalymavia, were Russian.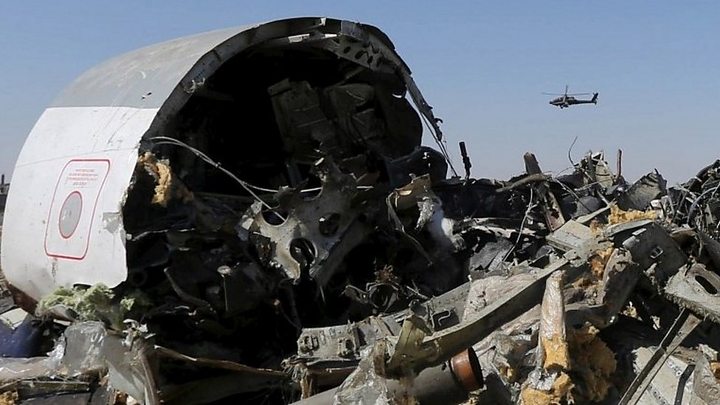 UK Foreign Secretary Philip Hammond said the government had looked at all the information available, including the claim by IS, and concluded that there was a "significant possibility" the plane had been brought down.
Mr Hammond said there would be no British flights out of Sharm el-Sheikh on Thursday, but airlines expected to start flying home some of the thousands of Britons currently at the resort on Friday.
"We're spending today with the airlines, with the Egyptian authorities, putting in place short-term emergency measures that will allow us to screen everything going onto those planes, double-check those planes, so that we can be confident that they can fly back safely to the UK," he told the BBC.
The move to suspend flights came during a visit to Britain by Egyptian President Abdul Fattah al-Sisi and Mr Hammond has stressed that the decision was made "very reluctantly", adding: "We have to put the safety and security of British nationals above all other considerations."
---
At the scene: Sarah Rainsford, BBC News, St Petersburg
Anxious for information, Olga Ovechkina and other relatives now come to a hotel near the airport each day.
It has become the headquarters for an emergency response team. Raw-eyed relatives wander the lobby here or sit quietly and cry.
Dozens of psychologists are on hand to offer comfort, themselves clearly drained by the experience.
---
Egyptian Foreign Minister Sameh Shoukry called the UK response premature and unwarranted, telling the BBC that Egypt had taken "exceptional measures" to enhance security at Sharm el-Sheikh airport.
Security concerns and the Sinai plane crash are expected to be high on the agenda when Mr Cameron and President Sisi hold talks on Thursday.
An unnamed US official told the Associated Press news agency they had reached the "tentative conclusion", after intercepting communications, that an IS affiliate in the Sinai peninsula had planted an explosive device on the plane.
"A bomb is a highly possible scenario," another US official told the AFP news agency.
But the officials stressed that forensic evidence, including the flight recorders, was still being analysed.
On Tuesday, US media reported that a military satellite had detected a "heat flash" over the Sinai at the time of the crash.
It said data was still being analysed and that although the flash could have been caused by a bomb, a fuel tank or engine explosion was also possible.
Mr Sisi, in a BBC interview on Tuesday, dismissed as "propaganda" claims that militants linked to IS brought down the aircraft.
The militants have carried out a series of deadly attacks against Egyptian security forces in recent years.
Kogalymavia earlier this week blamed "external influence" for the crash, but the head of Russia's aviation agency said such talk was premature.
On Thursday, the airline said it had suspended all flights of Airbus A321 jets in its fleet.
Also on Thursday, the first funeral for a victim of the crash was held in Russia, as Nina Lushchenko, a 60-year-old school employee, was buried in Veliky Novgorod, south of St Petersburg.
Timeline: the course of flight KGL9268
05:58 Egyptian time (03:58 GMT): Flight leaves Sharm el-Sheikh
06:14 Egyptian time (04:14 GMT): Plane fails to make scheduled contact with air traffic control based in Larnaca, Cyprus, according to an official with Russia's air transport agency
06:17 Egyptian time, approx (04:17 GMT): Plane comes down over the Sinai peninsula
11:12 Egyptian time (09:12 GMT): Flight had been due to land in St Petersburg's Pulkovo airport.
---
Are you in Sharm el-Sheikh? Are you planning to travel to the Sinai region from the UK? Do you work in the area? If you have any information to share with the BBC, you can email haveyoursay@bbc.co.uk.
Please include a contact number if you are willing to speak to a BBC journalist. You can also contact us in the following ways: