'Progress' in US-Russia talks on Syria airspace safety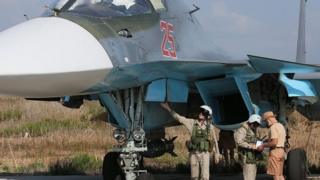 Russian defence officials say they are getting closer to a deal with the US on air safety in Syria, after aircraft from both countries flew within miles of each other last weekend.
The US Pentagon said "progress was made" in the third round of such talks.
Russian and US combat aircraft were in visual contact with each other, 10 to 20 miles (15-30km) apart, on Saturday.
Russian began air strikes in Syria on 30 September, saying it was targeting Islamic State (IS) militants.
But Western countries and Syrian activists say Russian planes have been hitting non-IS targets - a claim Moscow denies.
"Positions became closer on key provisions of the future document [on air safety]," the defence ministry said in a statement reported by Russian news agencies.
A US official told Reuters news agency that military officials from both sides were finalising a memorandum of understanding setting out basic air safety procedures over Syrian airspace.
In a statement, the Pentagon described talks as "professional and focused narrowly on the implementation of specific safety procedures".
Russia said it began its aerial campaign against IS militants and other jihadist groups after a request to help militarily from Syrian President Bashar al-Assad.
Prior to the talks, US Defence Secretary Ash Carter said Russia's actions in Syria were "wrongheaded and strategically short-sighted", though he expected a deal soon.
The US is leading a coalition that has been bombing IS targets in Syria since September last year.
The talks come after US military spokesman Col Steve Warren told reporters that two US and two Russian aircraft "entered the same battle space" over Syria on Saturday.
He said the aircraft were in visual contact with each other.
Col Warren also said that Russian planes had repeatedly broken air patrols, coming close to US American unmanned aerial vehicles or drone aircraft.
Russia has not publicly commented on this claim.
High-stakes gamble Risks of air forces from Russia, Syria and Nato operating in close proximity
Why? What? How? Five things you need to know about Russia's involvement
What can Russia's air force do? The US-led coalition has failed to destroy IS. Can Russia do any better?
The close ties behind Russia's intervention
Russia's Muslims divided over strikes