Israeli wounded in latest stabbing attack near Tel Aviv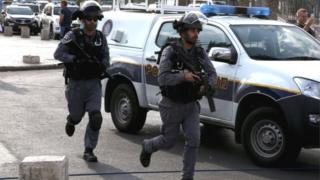 An Israeli has been injured in a stabbing in the north of the country - the latest in a spate of such attacks.
Police say the Palestinian attacker was captured by bystanders at the scene in Raanana, 12 miles (20km) from Tel Aviv. The attacker was seriously injured.
Many Israelis have been hurt in near-daily stabbings by Palestinians. Several attackers have been killed.
Four Israelis and at least 17 other Palestinians have been killed in the recent upsurge of violence.
In the latest incident, the Palestinian from East Jerusalem stabbed the victim at a bus stop, police say.
The attacker was overpowered and held by passers-by, they said.
The victim suffered moderate injuries, medical source said.
Tensions between Israelis and Palestinians have escalated since last month, fuelled by clashes at a flashpoint holy site in Jerusalem, in the West Bank, and across the Gaza border, as well as the wave of stabbings.
---
What is happening between Israelis and Palestinians?
There has been a spate of stabbings of Israelis by Palestinians since early October, and one apparent revenge stabbing by an Israeli. The attacks, in which some Israelis have died, have struck in Jerusalem and elsewhere, and in the occupied West Bank. Israel has tightened security and clashed with rioting Palestinians, leading to deaths on the Palestinian side. The violence has also spread to the border with Gaza.
What's behind the latest unrest?
After a period of relative quiet, violence between the two communities has spiralled since clashes erupted at a flashpoint Jerusalem holy site in mid-September. It was fuelled by rumours among Palestinians that Israel was attempting to alter a long-standing religious arrangement governing the site. Israel repeatedly dismissed the rumours as incitement. Soon afterwards, two Israelis were shot dead by Palestinians in the West Bank and the stabbing attacks began. Both Israel and the Palestinian authorities have accused one another of doing nothing to protect each other's communities.
Is this a new Palestinian intifada, or uprising?
There have been two organised armed uprisings by Palestinians against Israeli occupation, in the 1980s and early 2000s. With peace talks moribund, some observers have questioned whether we are now seeing a third. The stabbing attacks seem to be opportunistic and although they have been praised by militant groups, Palestinian leader Mahmoud Abbas has said Palestinians are not interested in a further escalation.
---