Jerusalem clashes 'may ignite violence beyond its walls' - UN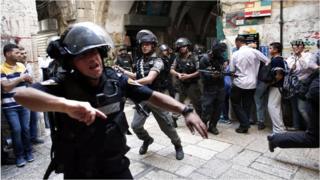 A UN envoy has warned that unrest in Jerusalem "may ignite violence beyond its walls" after clashes continued for a third day.
UN Special Envoy Nickolay Mladenov urged all leaders "to ensure visitors and worshipers demonstrate restraint and respect" at holy sites.
Israeli police clashed with protesters at the Al-Aqsa mosque compound.
The compound is the holiest site in Judaism, and contains the al-Aqsa Mosque, Islam's third holiest site.
The holy compound - known to Jews as the Temple Mount and to Muslims as al-Haram al-Sharif - is a source of religious and political tension between Israel and the Palestinians. It is a frequent flashpoint for violence.
Police spokeswoman Luba Samri told AP that police entered the Al-Aqsa mosque compound early in the morning to disperse protesters who had stayed inside the mosque overnight.
The protesters threw projectiles at officers, Ms Samri said, adding that two Palestinians were arrested and five police officers were slightly injured in the violence.
Twenty-six Palestinians were injured on Tuesday, none of them seriously, the Director of the Palestinian Red Crescent emergency unit, Amin Abu Ghazaleh, told Reuters.
Israeli Prime Minister Benjamin Netanyahu is due to convene an emergency ministerial meeting on Tuesday evening at the end of the Jewish holiday of Rosh Hashanah.
Tensions have been running high in the city since Israel Defence Minister Moshe Yaalon earlier this week banned two Muslim groups which confront Jewish visitors to the compound.
Mr Yaalon said the groups were the main sources of tension and violence at the site and said banning them was necessary to public order.