Islamic State 'beheads women for sorcery' in Syria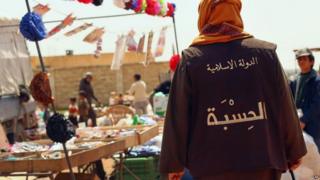 Islamic State (IS) has beheaded two women in eastern Syria, the first time the jihadist group has decapitated female civilians, activists say.
The women were killed along with their husbands in the city of Deir al-Zour and the town of al-Mayadeen, the Syrian Observatory for Human Rights reported.
All four were accused of sorcery.
IS has previously decapitated the bodies of Kurdish female fighters killed in battle. The group has also beheaded men for witchcraft in Iraq.
The group's extreme interpretation of Islamic law has also seen gay men thrown off buildings and women stoned for adultery.
Last week, IS militants in Syria hanged two youths from a beam by their wrists after accusing them of not fasting during the Islamic holy month of Ramadan.
The killing of people for sorcery is not unique to IS. The authorities in Saudi Arabia have also beheaded both men and women on similar charges.