Cairo bomb blast kills Egypt policeman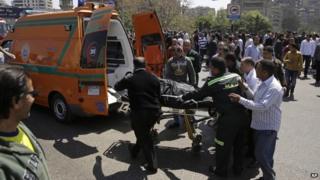 An Egyptian policeman has been killed in a bomb blast next to a checkpoint on a bridge in Cairo.
The explosion, in the upmarket Zamalek district, injured several more people on the May 15 bridge.
A militant Islamist group named Ajnad Misr (Soldiers of Egypt) said that it had carried out the attack.
Hours after Sunday's bombing, Egyptian officials said that security forces had killed the group's leader, Hamam Mohamed Attia.
According to the interior ministry and security sources, he was shot dead during an exchange of fire at an apartment in Giza, near Cairo.
His group has been targeting police officers and soldiers in attacks around the city.
Violence by Islamist militant groups has increased since the overthrow of President Mohammed Morsi in 2013.
The Ajnad Misr group last week said it was behind an explosion at Cairo University that injured eight people.
Much of the worst violence is in the Sinai peninsula, where dozens of soldiers and police have been killed in recent months in attacks by militants pledging loyalty to Islamic State.
The overthrow by the military of Mr Morsi, a leader of the Muslim Brotherhood, was followed by the suppression of his supporters.
Hundreds have been killed and thousands jailed since President Abdul Fattah al-Sisi, former head of Egypt's armed forces, came to power.