Why Tony Blair could never succeed in the Middle East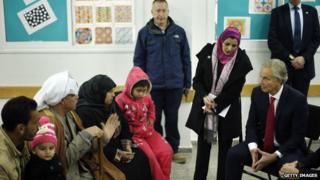 It was always unfair to blame Tony Blair for failing to bring peace to the Middle East. Quite simply, it was never his job.
As Middle East envoy for the Quartet, his remit was always much more narrow.
From the outset, his role was to promote economic development in the Palestinian territories: the Gaza Strip and Israeli-occupied West Bank.
Two years ago, Mr Blair's office was given the task of devising a $4bn (£2.7bn) growth and investment plan, designed to accompany a new US-led push to forge a political settlement between Israel and the Palestinians.
But economic development and the peace process go hand in hand, with the former almost always hostage to the latter.
In the absence of a political breakthrough, there were always severe limits on what Mr Blair's office could achieve.
For Palestinians, Mr Blair's narrow remit was a problem from the start.
Troubled relations
They've long suspected Israel of using economic discussions to distract attention from the lack of progress towards true peace and as a cover for its gradual colonisation of the West Bank.
They point to the continued expansion of Jewish settlements and Mr Blair's relative silence on the subject as proof that their initial misgivings were entirely justified.
It's no secret that the former prime minister's relations with Palestinian officials have never been good.
---
Blair's Middle East role
Appointed 27 June 2007 on the day he resigned as prime minister after 10 years in office
Represented the Quartet: the United Nations, the European Union, US and Russia.
Subject to criticism for potential conflicts of interest between his envoy role and his work with his commercial firm, Tony Blair Associates, and his Tony Blair Faith Foundation
---
Following his leading role in the invasion of Iraq, it's also fair to say that many Palestinians were sceptical even before he set foot in Jerusalem in 2007.
UN officials in Jerusalem say Tony Blair has been less and less visible in recent years.
"No-one knows if he's here or not," is how one official put it.
But they don't necessarily blame one man for the international community's failure to promote peace or economic improvement.
"You could argue that he's been no more unsuccessful than other figures," the same UN official said.
A glance at the website of The Office of the Quartet Representative reveals a number of initiatives large and small, from a 2007 donor conference which raised $5bn for the Palestinian Authority, to several moves to boost trade from the Gaza Strip, following last year's devastating Israeli military assault.
Intertwined politics
Western observers say Mr Blair has devoted considerable recent effort to improving the dire economic situation in Gaza, with a consistent message that Israel's blockade has to be lifted.
But they tend to be less impressed by his record in the West Bank, where Israel still has complete control over 60% of the land and the prospects for expansion of the Palestinian private sector are extremely limited.
The first four years of Mr Blair's tenure as Quartet envoy saw rapid growth in the West Bank, but this has slowed down in recent years, demonstrating, in the words of his website, "how intertwined the economic and politics are".
Mr Blair's allies say he will continue to play a role, both in Palestinian affairs and the wider Middle East peace process.
It seems likely that any formal announcement will have to wait until the dust has settled from tomorrow's Israeli general election.
But after eight years, it seems clear that change is in the air.
The EU, which was never keen on Tony Blair's appointment in the first place and which cut funding to his office three years ago, seems to be in the hunt for a replacement.
'Diminishing support'
News of his appointment on the day he stepped down as prime minister in 2007 surprised many and dismayed some. George Bush, US president at the time, pushed the appointment, with the support of UN Secretary General Ban Ki-Moon. Neither the EU nor the Russians were keen.
The former UN Middle East envoy Michael Williams says there is diminishing support for Tony Blair within the Quartet.
Lord Williams told the BBC's World At One that he wasn't sure Mr Blair's role could be redefined in a way that would satisfy the Quartet's members.
"It's questionable, in my mind, whether he will have the authority to continue."