Netanyahu warns Iranians of 'very bad' nuclear deal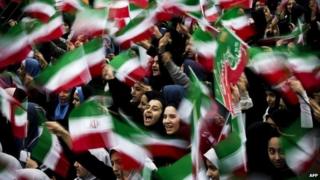 Israel's prime minister has warned the people of Iran that the nuclear deal being negotiated by their country and world powers is "very bad" for them.
In an interview with BBC Persian, Benjamin Netanyahu said it would create a "nuclear tinderbox in the heart of the Middle East that could go off".
Nothing should be done to give the government in Tehran "a clear path to the bomb", Mr Netanyahu stressed.
Iran insists its nuclear activities are solely for peaceful purposes.
But the so-called P5+1 - the US, UK, France, China and Russia plus Germany - want it to scale back sensitive nuclear activities to ensure that it cannot develop a nuclear weapon. In return, they would end the sanctions that have crippled the Iranian economy.
Both sides have set themselves deadlines of 31 March for a political framework agreement and 30 June for a final deal.
'Cost' for Iranians
On Tuesday, Mr Netanyahu told a joint meeting of the US Congress that the proposals currently being discussed would "all but guarantee" that Iran could obtain nuclear weapons.
It would allow Iran to keep some uranium enrichment facilities and leave it capable of producing enough fuel for a bomb within a year if it broke the deal, he warned. He also criticised the proposed 10-year timeframe of the deal and its failure to address Iran's ballistic missile programme.
US President Barack Obama said Mr Netanyahu had offered "no viable alternatives", but the Israeli leader told BBC Persian that his speech had caused Americans to "focus on this issue".
"They understand that there is a problem, they understand that having what is called a 'sunset clause' - a period of years after which this regime automatically will get the right to enrich uranium on a vast scale, and simultaneously have intercontinental ballistic missiles to deliver them anywhere on earth - that is not good for world peace."
"And again, I think that is very bad for the people of Iran. Because what it will do is create this nuclear tinderbox in the heart of the Middle East that could go off and that would be a terrible disaster for all of us."
---
Nuclear Iran: What world powers want - and what they fear
World powers imposed sanctions on Iran because they felt it was not being honest about its nuclear programme and was seeking the ability to build a nuclear bomb.
Tehran denied this. Talks between Iran and six world powers known as the P5+1 have tried to allay the suspicions in exchange for easing the sanctions
Specifically, the world powers want to curtail Iran's ability to enrich uranium, which can be used to make reactor fuel but also nuclear weapons
Disagreement centres on how to limit Iran's development and use of centrifuges that enrich uranium
Faster enrichment would cut the time Iran would need to produce enough weapons-grade uranium for a weapon, were it to choose to do so. The US wants this "break-out window" to be at least a year long
It is not known if Iran has a warhead or suitable delivery system
---
He said Iranians "understood the cost" of their government's policies.
"They have a regime that instead of taking care of them is just focusing all its efforts on worldwide aggression and, second, also represses their freedom inside Iran, and third is creating a potential arms race in the Middle East that is endangering everyone."
Mr Netanyahu stressed he did not oppose Iran having nuclear energy.
"If this regime was not pursuing nuclear weapons, then you'd have a different attitude. But it is pursuing nuclear weapons," he said, citing its development of ballistic missiles, construction of underground enrichment facilities and refusal to answer questions about the possible military dimensions of its nuclear programme."
Iranian Foreign Ministry Spokeswoman Marzieh Afkham said Mr Netanyahu's speech to Congress was "Iranophobic" and a "deceitful show and part of the election campaign of Tel Aviv's hardliners".