Middle East media review: 'Netanyahu speech promotes war'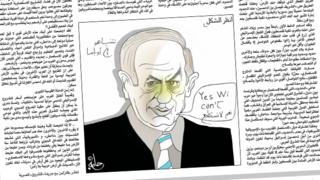 Arab commentators have criticised Israeli Prime Minister Benjamin Netanyahu for the fiery speech he gave to the US Congress on Tuesday.
He used the occasion to voice strong opposition to a proposed deal between Western powers and Iran aimed at curbing Tehran's nuclear programme.
But many in the Middle East have accused him of promoting war and bolstering his own election prospects.
Reaction in Iran was predictably scornful, but even in Israel, Mr Netanyahu did not get an overwhelming positive response from the press, with some analysts saying his speech lacked depth and detail.
'A military solution'
Writer Rim al-Harmi of Qatar's Al-Rayah newspaper sums up the feeling of many Arab commentators, saying "it was a political, opportunist speech to serve Netanyahu and his electoral campaign and to wash his hands of the war crimes committed by Israel".
An editorial in the Palestinian Al-Quds daily says the speech was "was an attempt to convince the US legislators that only a military solution can achieve [the goal of containing Iran] in a way that satisfies Netanyahu and his right-wing coalition".
Adli Sadiq of Palestinian Al-Hayat al-Jadidah newspaper points out what he sees as a hypocritical stance. "Netanyahu's speech was nonsense and illogical. Iran has not produced a nuclear weapon, and it does not want war. Similarly, he does not shun war... He wants his country to be the only strong state in the region".
'Ridiculous and dramatic'
Unsurprisingly, there were poor reviews for Mr Netanyahu's speech in Iran. Tweets containing the hashtag "#ShutUpNetanyahu" were circulating in Persian and English for about an hour before Mr Netanyahu even took to the podium.
But criticism in the reformist and centrist press was directed more at domestic conservatives who are accused of speaking the same language as the Israeli prime minister in opposing nuclear negotiations with the West. The front page of centrist paper Iran, for example, reads: "Domestic hardliners have become synonymous with Netanyahu".
But a headline in ultra-conservative Keyhan hits back at the Iranian negotiating team and those who support it, saying: "Netanyahu's loose talk proves costly for those who are thrilled about a nuclear deal".
Its report goes on to say: "Netanyahu's ridiculous and dramatic speech in the US Congress has revealed the fake fight between Washington and Tel-Aviv."
The conservative Khorasan paper also takes up this line, suggesting that the US and Israeli leaders are not far apart on the issue.
Commentator Hamed Rahimpur says: "Although it is undeniable that Obama and Netanyahu disagree on Iran, their remarks in the past 24 hours show that they both seek the same goal and share the same values with regard to Iran."
He adds that the US and Israel are in "a tactical rather than a strategic disagreement on Iran" which is evident when the Israeli prime minister presents US-Israeli arguments as "disagreements in a 'family'" and while President Obama speaks "about providing billion-[dollar] support for Israel".
Mr Netanyahu's speech hit a nerve in some parts of the Iranian press. A report in the English-language Tehran Times admits that it was "painful and surprising" to see US legislators clapping repeatedly for a man whose "criminal record is obvious".
'Omitting important parts'
Mr Netanyahu's speech divided opinion back in Israel.
The Jerusalem Post was full of praise, negating Mr Obama's criticism that the speech offered nothing new.
"Netanyahu provided a vision for moving forward. He did not simply trash the deal and leave no room for negotiations. He held onto the ideal of a peaceful resolution of the conflict via a negotiated deal with Iran," the editorial said, referring to Mr Netanyahu's call for a "better deal".
Boaz Bismuth, in the pro-Netanyahu free paper Yisrael Hayom, lavishly praised the speech, saying "there are moments in which a leader does what he does not for the sake of votes, but for the sake of the children".
But Nahum Barnea was less impressed, writing in Yediot Aharonot that "the impression of the speech will melt quicker than the snow" on Washington's pavements. US public opinion, he adds, does not necessarily line up with the applause Mr Netanyahu received from the Congressmen in the gallery.
Commentator Zvi Barel, in left-of centre independent broadsheet Ha'aretz, suggested that the speech lacked nuance, and failed to take into account the complicated relationship the US currently has with Iran.
"Netanyahu's mosaic lacked a few important parts… Netanyahu warns against perceiving Iran as a US friend, because of its war against ISIS, but it is indeed an active partner in the war and its involvement is welcomed by the United States."
Meanwhile, an editorial in Ha'aretz says that Mr Netanyahu wasted his chance by speaking about the wrong topic to Congress.
"Nobody dares to talk about the conflict with the Palestinians, its heavy price and the necessity of ending it. But topping them all is the prime minister, who wasted the great opportunity and the enormous attention he received on Capitol Hill and didn't even mention the real danger Israel faces."
BBC Monitoring reports and analyses news from TV, radio, web and print media around the world. You can follow BBC Monitoring on Twitter and Facebook.