Syria conflict: US and Turkey agree Syrian rebels deal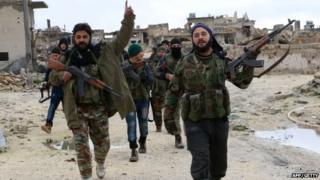 Turkey and the US have signed an agreement to train and arm moderate Syrian opposition forces taking on Islamic State (IS) militants.
The US embassy in Ankara said that the deal had been signed by US Ambassador John Bass and Turkish Foreign Ministry Undersecretary Feridun Sinirlioglu.
The US is planning to send more than 400 troops to train 15,000 Syrian fighters over three years.
Turkey has offered to host training sites for the scheme.
The announcement puts an end to months of negotiations between Turkey and the US on how to strengthen the Syrian opposition.
The US has wanted to focus on the fight against IS but Turkey has been clear that any scheme must be linked with plans to remove Syrian President Bashar al-Assad.
Turkey's Foreign Minister Mevlut Cavusoglu confirmed that the "train-and-equip" deal had been signed late on Thursday.
He added that the newly trained forces would fight both terrorist organisations and Syrian government forces on the ground.
Correspondents say the deal is a positive development in the sometimes strained relations between the US and Turkey.
Analysis: Barbara Plett Usher, BBC News, Washington
This is a necessary step for US President Barack Obama's plan to turn moderate Syrian rebels into ground forces able to wage war on IS militants, while Western and Arab countries bomb them from the air.
Turkey, Saudi Arabia and Qatar had agreed to host the training programmes set to begin in March. This deal sets out how that will happen in Turkey, although details are scarce.
Ankara agreed to participate even though it has been a reluctant partner in the US-led coalition. It argues that fighting Islamist insurgents is a sideshow to what should be the main focus of the campaign: the removal of President Assad.
Some of the rebels may agree. But presumably they will take what they can get and hope it will be more than that offered by a previous CIA programme small in scope and stingy on weapons.
A number of CIA-backed rebel units were overrun by or decided to join the Islamist fighters who dominate the conflict. The new Pentagon programme aims to redress that, but this is the weakest part of Mr Obama's anti-IS strategy.
US officials have said they plan to train about 5,000 Syrian fighters annually for three years in camps outside of Syria.
It marks an expansion of the CIA-led training of Syrian rebels, which the US began covertly in March 2013 in Jordan.
In October 2014, it was announced that the project would be escalated and a parallel Pentagon programme established.