UN Security Council targets Islamic State financing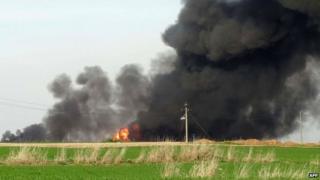 The UN Security Council has adopted a resolution aimed at cracking down on trade with, and ransom payments to, Islamic State (IS) militants.
The measure calls for sanctions on any person or group trading with IS.
In the US, Republicans are trying to toughen legislation President Barack Obama has sent to Congress authorising military action against IS.
The US Senate has voted overwhelmingly to approve Pentagon official Ashton Carter as the new defence secretary.
He replaces Chuck Hagel, who resigned in November, and is likely to play a key role trying to persuade Congress to pass the legislation on military force.
The UN resolution was passed unanimously, another indication of how the international community has come together to target IS, said the BBC's Nick Bryant.
A UN report estimates jihadist groups are earning up to $1.65m (£1m) per day from oil sales, and at least $35m a year from ransom payments.
The UN resolution is expected to put pressure on the Turkish government as the country is considered a key transit point for oil shipments, with trucks often returning to Iraq and Syria with refined products.
It also extends a ban on the trade in antiquities looted from Iraq, which was already in place, to also cover items taken from Syrian territory.
The text of the resolution does not authorise the use of military force against IS targets.
Republican pressure
President Obama has sent a formal request to Congress for authorisation for further military action against IS targets.
But Republicans, who control the House and Senate, want changes, and are pressing for stronger action from the Obama administration.
Ed Royce, the Republican chairman of the House Foreign Affairs Committee, said coalition strikes against IS had not gone far enough.
"This air campaign isn't pummelling the enemy as it should,'' he said. "Congressional authority is of no value if the president isn't willing to act decisively."
Mr Carter was approved by the Senate by a vote of 93 to five.
He was the Pentagon's second-highest ranking official for two years and has degrees in physics and medieval history.
In another development, an IS magazine published what it said was an interview with Hayat Boumeddiene, widow of the Paris hostage taker Amedy Coulibaly.
Coulibaly took several hostages, four of whom were killed, at a kosher supermarket in Paris, two days after gunmen stormed the offices of the magazine Charlie Hebdo.
The interview, published in Dar al-Islam, does not name Hayat Boumeddiene and does not feature any photographs of her but describes her as "the wife of Amedy Coulibaly".
She is quoted as saying Coulibaly was a supporter of the group's aim.
She is wanted for questioning in France in connection with the attacks in Paris, which took place several days after she is believed to have crossed into IS-controlled territory.