Iran: Oil price slump fuels economy fears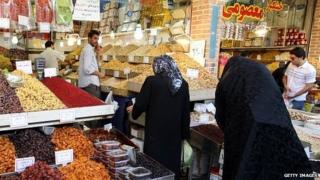 The sharp fall of global oil prices in recent months is threatening to jeopardise the successes of President Hassan Rouhani and plunge the country back into deep recession.
The Islamic Republic is no stranger to fiscal crises but with Mr Rouhani at the helm since 2013, its economic prospects have been looking up.
Having tamed rampant inflation and stabilised Iran's currency, Mr Rouhani's government has worked to repair eight years of fiscal chaos under his predecessor Mahmoud Ahmadinejad.
Last October, Iran's central bank governor announced the country's first economic growth since 2011, proof to many that Mr Rouhani was the tonic the country needed.
But three months on, Iran faces new challenges in overcoming its heavy reliance on crude oil revenues at a time of a free-fall in prices.
"The sliding oil price is a concern for Iran's short term-prospects," said Amir-Ali Amiri, a founding partner of ACL, an investment company based in London and Tehran.
"The country is in the economic doldrums and investor confidence is being held back by the combination of sanctions [over its nuclear programme] and low oil prices."
"Private businesses are struggling for liquidity and there are many uncertainties. On Tehran's stock exchange there's been a sizeable reduction in trade volumes. Right now there's a wait-and-see attitude to see what the nuclear talks will bring," Mr Amiri added.
'Shock to economy'
Away from international negotiations over its nuclear programme, Iran's government is now grappling with how to balance the budget for the forthcoming Iranian year, which begins in March.
This year, officials say Iran is expected to reap between $20-$25bn (£13-16bn; €17-22bn) in oil sales - less than a quarter of the crude oil windfall Mr Ahmadinejad's government received in 2011.
Next year, the figures are likely to be lower. Major spending plans are now being frozen and some ministries face reduced budgets.
In December, President Rouhani outlined the draft budget - basing it on an oil price of $72 a barrel - but with oil now under $50, fiscal planning has been overtaken by events.
Last week, an advisor to Mr Rouhani admitted the oil price was delivering a "shock to Iran's economy".
Analysts say there are ways to cope - more subsidy reforms, further taxes, some privatisation - but each has its side-effects.
An increase in value added tax is on the cards, along with some increases in fuel and food prices. A sign of things to come, bread has gone up by 30% since December.
Making ends meet
For many Iranians, it is a deeply troubling time.
"I'm very worried. This issue of oil is at the back of everyone's mind but I try not to think about it," said Ali, a 32-year-old IT engineer.
"I'm working more and earning more yet I can't afford more things," he said by telephone from Tehran.
Unemployment increased by 1% for the three months to December compared to the previous period, with young job seekers continuing to face the brunt.
Those who can have resorted to working two, sometimes three, jobs to make ends meet. But getting paid is another challenge.
Arash is owed more than $11,000 from a municipal department in Tehran which has not paid him for eight months.
A self-employed researcher and writer, he has coped by borrowing money from his friends and is desperate to leave the country to find a new life in Australia or Canada.
"This is a major breakdown in my finances, it's had dire consequences," he said by email. "Things are getting more difficult every day."
'Resistance economy'
Officials accuse Saudi Arabia - Iran's regional rival - of conspiring with the US to bring oil prices down, which they say will ultimately backfire.
The government remains confident it can weather the storm through boosting exports of other goods and adhering to what they dub the "resistance economy" - a policy based on strengthening Iran's domestic capacities and reducing its needs from Western countries, such as the importation of food, medicine and industrial equipment.
Progress is visible. Recent customs data shows exports of gas condensates, petrochemicals and non-oil exports brought in $42bn for the 10 months to December, a boost of 24% compared to the same period a year earlier - arguably a sign of just how resilient Iran's economy can be.
But there is no doubt Iranians face yet more uncertainty ahead.
At a glitzy beach club on Dubai's Palm Islands, a wealthy Iranian property developer on holiday from Tehran considers his future.
"Everything's up in the air until we know what happens in the nuclear talks. If an agreement is made, it will be a big boost for the economy," the businessman said. "If it fails, Iranians lose big time."
Marcus George is a former BBC and Reuters correspondent now based in the Gulf.