Syria conflict: Khoja elected National Coalition leader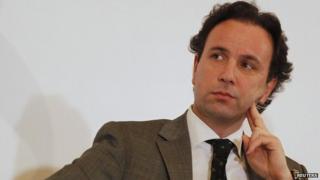 Syria's main Western-backed opposition group, the National Coalition, has elected a new leader.
Khaled Khoja won 56 of the 106 votes cast at a meeting on Sunday in Istanbul, where the coalition is based.
The 49-year-old doctor and businessman from Damascus replaces Hadi al-Bahra, who did not stand for re-election.
Mr Khoja's appointment comes as Russia, an ally of President Bashar al-Assad, attempts to bring the Syrian government and opposition together for talks.
The National Coalition has not ruled out participating, but wants several conditions to be met.
It insists that any negotiated settlement be based on the 2011 Geneva Communique, which calls for the formation of a transitional governing body with full executive powers - something Mr Assad's supporters reject.
An official in Damascus was quoted by state media last month saying that the government was "ready to participate in preparatory, advisory meetings in Moscow".
However, the official stressed that the initiative was aimed only at finding "agreement on convening a dialogue conference between the Syrian themselves, without any foreign intervention".
Russia has said the first stage of the talks would take place in late January and include members of both the officially-tolerated opposition based in Syria and exiled opposition groups like the National Coalition. Syrian government representatives would join the next stage.
The UN special envoy for Syria, Staffan de Mistura, has accepted an invitation, but there has so far been no sign of Western participation.
Two rounds of talks in Geneva in early 2014 backed by the UN, US and Russia failed to end the three-year conflict in Syria which has left more than 200,000 people dead and displaced more than 10 million others.
Mr de Mistura is also attempting to negotiate local ceasefires, or "freeze zones", that will help de-escalate the fighting in key battlegrounds like the northern city of Aleppo and allow for the delivery of aid.