Egypt: Al-Jazeera three retrial hailed by media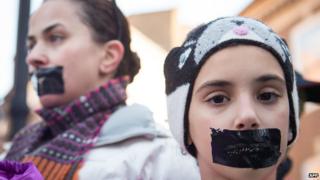 Egyptian commentators have largely welcomed the decision to retry three al-Jazeera journalists jailed for spreading false news.
Some, however, object to the Court of Cassation's ruling as an example of political interference in the judicial system, while others argue that the three should be released immediately.
The Egyptian pro-government media report the news in a noncommittal manner.
Some however - such as the news website Al-Youm al-Sabi - continue their use of the term "Marriott cell" to describe the three reporters, Peter Greste, Mohamed Fahmy and Baher Mohamed.
A reference to the central Cairo hotel from which the journalists worked, the phrase highlights the emphasis the authorities and official media have placed on portraying the men's alleged wrongdoing as having jeopardised national security.
There is also speculation about what the ruling means.
Islamist politician Yusri Hammad tells independent daily al-Youm al-Masry that it shows the Egyptian authorities are no longer interested in the continued detention of the journalists as they have achieved their main goal - the closure of al-Jazeera's Live Egypt channel - which they had seen as a something of a thorn in their side.
"The channel has helped to reveal legal, humanitarian and human rights violations, but when it was shut down it became meaningless to hold its journalists in jail," he is quoted as saying.
Cairo accused the Qatari-owned channel of favouring the banned Islamist group Muslim Brotherhood, to which ousted President Mohammed Morsi belonged.
'Unjust detention'
Al-Jazeera itself dedicated much of its Arabic-language channel's Thursday morning coverage to the story.
The channel insists its reporters were merely doing their job, and have no case to answer.
One of the TV channel's journalists thanked the Egyptian court for its ruling on-air, but said it was too early to congratulate his three colleagues, as the retrial was only a first step to their release.
He called on the Egyptian judiciary "to reflect justice and free" the three.
A journalist for al-Jazeera's English-language channel, Abdullah Mussa, voiced outright disappointment at the ruling.
"Release [al-Jazeera staff] now… retrial only prolongs unfair & unjust detention!" he tweeted.
"Egypt judiciary considers journalism and truth a crime."
A former Egyptian opposition leader, Ayman Nour, offered a different view, telling the channel in a phone interview that the decision to order a retrial "clearly shows the interference of politics in the Egyptian judiciary".
But many Egyptian social media commentators are simply happy that a retrial will take place.
"I hope the new court convenes quickly and frees them, God willing!" online activist Muna Saif tweeted, while another twitter user described hearing about the retrial as "good news in the morning".
BBC Monitoring reports and analyses news from TV, radio, web and print media around the world. You can follow BBC Monitoring on Twitter and Facebook.