Bahrain Wefaq chief Salman held 'for promoting violence'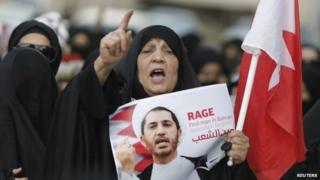 Bahraini Shia opposition leader Sheikh Ali Salman has been remanded in custody on suspicion of inciting violence and hatred to achieve political change.
Attorney General Nayef Yousef Mahmoud said the head of the al-Wefaq political society would be detained pending further investigation by prosecutors.
The charges relate to a series of recent statements by Sheikh Salman.
News of the cleric's arrest on Sunday triggered protests in Shia villages across the Sunni-ruled Gulf kingdom.
The UN's human rights chief Zeid Raad Al Hussein warned Sheikh Salman's arrest risked "intensifying the fraught political scene" in Bahrain.
Mr Al Hussein's spokeswoman Liz Throssell urged the Bahraini authorities to free Sheikh Salman "as well as all other persons convicted or detained for merely exercising their fundamental rights to freedom of expression and assembly''.
A leading opposition activist, Maryam al-Khawaja, also warned of a very serious escalation of the continuing crisis in Bahrain.
The country has seen years of sporadic unrest since the government's suppression of Shia-led pro-democracy demonstrations in 2011.
A national dialogue process intended to find a solution to the crisis is currently at an impasse, with the opposition accusing the ruling Al Khalifa family of wanting to retain all powers, and angry Shia youth are increasingly turning to violence.
'Police state'
Since 2011, Sheikh Salman has called for the establishment of a constitutional monarchy, unlike more hardline opponents of the royal family who advocate its overthrow.
The 49-year-old cleric, who was re-elected Wefaq's leader on Friday, has also urged his supporters to protest peacefully, although last year he was accused of "incitement to religious hatred".
On Monday night, the attorney general said an examination of recent speeches and statements showed Sheikh Salman had "significantly escalated from incitement and hate speech, ultimately to threats of military force against the state, including the imminent option to deploy methods currently used by armed groups operating elsewhere in the region", without elaborating.
The cleric had therefore been remanded in custody pending further investigation on charges relating to "promoting political change using illegal forceful means", Mr Mahmoud added.
Sheikh Salman was also accused of "explicitly inciting hatred against specific segments of society", "incitement to non-compliance with the law" and "deliberate defamation of a statutory body".
The charges have to be filed with a court to initiate a formal prosecution.
Mr Mahmoud said four lawyers had been allowed to meet the Wefaq leader in private on Monday and also to sit in on his interrogation.
"The government of Bahrain supports the right to free speech, which is protected by the constitution, but no country and no government can allow hate speech to go by unchecked," he added.
But in a joint statement, opposition groups led by Wefaq said the authorities were "moving backwards to a police state instead of taking steps towards a political solution and an end to serious human rights violations against citizens".
At least 89 people have been killed in clashes between protesters and security forces in the past three years, while hundreds more have been put on trial, activists say.
In a separate development on Monday, a court in Manama sentenced two Shia men to death and a third to life in prison for killing a policeman in a bomb attack in February, state media reported.