Hamas prevents Gaza orphans visiting Israel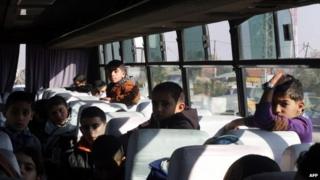 Thirty-seven children whose parents were killed in the recent Israel-Gaza conflict have been prevented by Hamas from visiting Israel on a trip organised by peace activists.
Hamas said they would have had to visit "settlements and occupied towns".
The children, aged between 12 and 15 and accompanied by five adults, were turned back at the Erez crossing.
More than 2,100 people, mostly Palestinians, died in the 50-day July-August conflict, the UN said.
Israel said 67 of its troops and six civilians died.
The visit, organised by kibbutz leaders, the charity Candle for Peace and Arab-Israeli officials, would have taken the children to Arab towns in Israel, southern areas targeted by militants' rockets in the conflict, a mixed-race school and the beach in Tel Aviv.
A visit to Ramallah in the Israeli-occupied West Bank to meet the Palestinian President Mahmoud Abbas was also planned, according to Yoel Marshak of the Kibbutz Movement.
The week-long trip had been approved by the Israeli security service.
But Hamas, which has controlled Gaza since 2007, said the cancellation was justified to protect children from "the politics of normalisation" with Israel.
Spokesman Eyad Bozum said Hamas would ensure such a trip "will never happen again".
Three weeks ago, Hamas too had given approval for the visit, Mr Marshak, said, expressing surprise that it was blocked.
Hamas refuses to recognise Israel, which it sees as occupying Palestinian land, and under its charter is committed to Israel's destruction.
Several nations, including Israel and the United States, count Hamas as a terrorist organisation due to its long record of attacks and its refusal to renounce violence.
The most recent Gaza conflict flared after tensions rose between Israel and Palestinian militants.
Hamas fired thousands of rockets and mortars towards Israel during the 50-day conflict this summer. Israel carried out an aerial bombing campaign and a ground invasion.
Correction 8 January: A quote attributed to Candle for Peace director Malek Freij which appeared in an earlier version of this story has been removed because of ambiguities in the translation of his remarks to Reuters TV.