Gunmen kill Lebanese soldiers in ambush near Syria border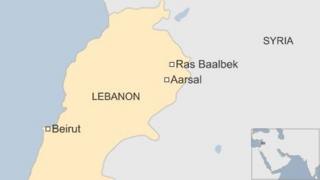 At least six Lebanese soldiers have been killed in an ambush by gunmen near the border with Syria, officials say.
The attack reportedly happened in the eastern region of Ras Baalbek and was followed by clashes.
The state-run National News Agency said the Lebanese military had called in air support to the area.
Lebanese soldiers have been battling militants loyal to Islamic State (IS) and the al-Nusra Front along the Syrian border.
On Tuesday the UK government told the BBC it is spending £20m ($30m) to boost border security along the frontier.
The latest attack comes after Lebanese security forces detained a wife and son of IS leader Abu Bakr al-Baghdadi at a border crossing near the town of Arsal.
The Lebanese army say the pair were picked up 10 days ago and were trying to enter Lebanon from Syria with forged papers.
Lebanese security forces have arrested a number of jihadists suspected of carrying out attacks in the country with the aim of expanding the influence of Islamic State.
IS and the al-Nusra Front, al-Qaeda's Syrian affiliate, are holding hostage around 20 Lebanese army soldiers who were captured during fighting near Arsal in August.
They are threatening to kill them unless militants are freed from Lebanese jails.