Al-Jazeera journalists: Greste family appeal to Egypt's Sisi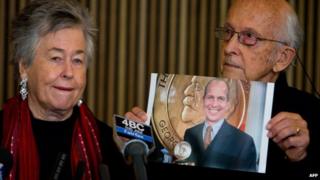 The parents of jailed Al-Jazeera journalist Peter Greste have made a direct appeal to Egypt's president for his release by Christmas.
In a news conference in Brisbane they said they welcomed news that President Abdel Fattah al-Sisi was considering granting a pardon to Mr Greste.
He is one of three Al-Jazeera journalists jailed in Egypt in June on charges including spreading false news.
They deny the charges and have appealed against their seven-year sentences.
On Thursday, Egyptian President Abdul Fattah al-Sisi said he is considering the possibility of granting pardons to the two foreign Al-Jazeera journalists.
In an interview with French broadcaster France 24 he said "the matter is being discussed to solve the issue".
''We welcome the announcement. It does fill us with a lot of hope," Mr Greste's father Juris Greste said during the news conference on Friday.
However he went on to point out that they had cause for hope before but that "those expectations ended up in bitter disappointment".
"Dear Mr President al-Sisi we realise that the decision to free Peter isn't entirely in your hands alone, but please please see to it that Peter is back with his family before Christmas," Juris Greste said.
'Under study'
Egyptian-Canadian bureau chief Mr Fahmy, Australian correspondent Peter Greste and Egyptian producer Baher Mohamed were sentenced to seven years in prison on 23 June.
When asked about a possible pardon for the journalists in the interview with France 24, President Sisi said the issue was "under study".
"If we find that this is appropriate for Egyptian national security, then we will do it," he added.
As an Egyptian national, Mr Mohamed would not be expected to benefit from such a pardon.
In addition to charges of defamation, the journalists were also convicted of supporting Islamist group the Muslim Brotherhood - charges they have denied. They were first arrested on 29 December last year.
President Sisi's comments to the French broadcaster may signal a shift in approach, as the president had earlier stressed he would not interfere with the judicial rulings.
Speaking days after the trial ended, he said he would have preferred the journalists to have been deported, rather than prosecuted in Egypt, acknowledging that the trial had "very negative effects".
Last week he issued a decree allowing foreigners charged or sentenced in Egypt to be repatriated.
The sentencing of the journalists from the Qatar-based broadcaster has raised concerns over growing media restrictions in Egypt.