Palestinian PM cancels Gaza visit after series of blasts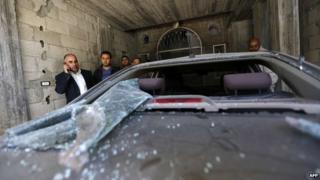 The Palestinian prime minister, Rami Hamdallah, has cancelled a planned visit to the Gaza Strip after a wave of blasts targeted Fatah party officials.
Fatah has blamed Hamas, which governs the strip, for the blasts - but the group has denied it was responsible.
No-one was hurt in the bomb attacks that targeted Fatah property on Friday.
Tension is also building in Jerusalem where clashes between police and Palestinian protesters began again on Friday in the Shuafat area of the city.
Israeli security forces are also preparing for unrest following Friday prayers near Jerusalem's holy sites, where clashes took place last week.
Arafat stage targeted
Fatah official Fayez Abu Eitta said his car was destroyed and the homes of two other officials were damaged in the blasts. He blamed Hamas, which has governed the Gaza Strip since 2007.
"We blame the security forces affiliated with Hamas for being entirely responsible (for the attacks) because they control the Gaza Strip, so they have the responsibility to protect our lives and our properties," Mr Abu Eitta said.
A stage set up to commemorate the tenth anniversary of the death of former Palestinian leader Yasser Arafat was also reportedly targeted.
Hamas said the explosions were a "criminal" act and has vowed to bring the perpetrators to justice.
PM Hamdallah had been due to meet the EU's new foreign policy chief, Federica Mogherini, in Gaza on Saturday.
A spokesman for Ms Mogherini said that she is still expected to travel to Gaza from Jerusalem to meet Palestinian cabinet members and UN staff.
The two factions have been at odds since Hamas reinforced its power in Gaza in 2007 after ousting its Fatah rivals.
The groups formed a unity government in April, but it has not been fully implemented on the ground and tensions between the sides remain.