UN rebukes Israel over Jerusalem settlements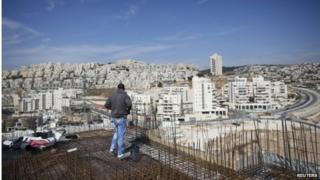 Israel has faced strong criticism at the UN Security Council over plans to build homes in occupied East Jerusalem.
UN political chief Jeffrey Feltman said that the settlements would raise "grave doubts" about Israel's plans for durable peace with Palestinians.
The meeting was called after the Israeli PM's office ordered plans for over 1,000 new units to be advanced.
Jewish settlements and Jerusalem are among the most contentious issues between Israel and the Palestinians.
'Cycle of violence'
Mr Feltman said Israel was "in violation of international law" when moving settlers into Palestinian territories.
The US, Israel's strongest ally, said it was "deeply concerned" at what it called provocative actions by Israel on the issue.
The BBC's Nick Bryant in New York says the US made it clear that the settlements would escalate tensions at a time when the situation was already tense enough.
Britain said that illegal settlement activity made it much more difficult for Israel's friends to defend it against accusations that it was not serious about making peace.
Palestinian UN envoy Dr Riyad Mansour said the settlements were eroding a future Palestinian state and that Israel's actions were "threatening to incite yet another cycle of violence".
Israeli Ambassador Ron Prosor accused the Palestinians of "half truths, myths and outright lies".
He said: "I'm here to convey one simple truth: the people of Israel are not occupiers and we're not settlers. Israel is our home and Jerusalem is the eternal capital of our sovereign state."
Mr Prosor said: "It says a great deal that the international community is outraged when Jews build homes in Jerusalem but doesn't say a word when Jews are murdered for living in Jerusalem. The hypocrisy is appalling."
There were no plans, however, for a resolution at the 15-member council on the matter and even a statement criticising Israel was improbable given general US backing for Israel.
US 'red-hot anger'
The settlements issue put the White House on the defensive on Wednesday, after an unnamed US official reportedly used a profanity in describing Mr Netanyahu.
An article on The Atlantic magazine website quoted an unidentified member of the Obama administration who said there was "red-hot anger" over the settlements.
Using strong language, he said the Israeli leader had no guts because he was more interested in political survival than compromising with the Palestinians.
White House spokesman Josh Earnest said the comments were counterproductive and did not reflect the administration's view. But he added that the "close relationship" between the two countries should not "paper over" differences.
"The fact is the United States has repeatedly made clear our view that settlement activity is illegitimate, and only serves to complicate efforts to achieve a two-state solution in the region," he said.
Another White House official told the BBC "there's great frustration with Netanyahu - that's not new - and it's intense".
Israeli settlements in the West Bank and East Jerusalem - sought by the Palestinians for a future state - are considered illegal under international law, though Israel disputes this.
The plans for the new homes include some 400 in Har Homa and about 600 in Ramat Shlomo.
According to Israel's left-leaning Haaretz newspaper, the plans have been on hold for several years.
Mr Mansour said the latest Israeli move was a "blatant act of reprisal" for an attack by a Palestinian last week in which a Jewish baby girl and a woman were killed at a tram station in Jerusalem.
Israel captured East Jerusalem in the 1967 Middle East war and annexed it in 1980 in a move not recognised internationally. It says the city is its "eternal and indivisible" capital.
The Palestinians insist Israel must withdraw from East Jerusalem as part of a final peace deal.