Iraq crisis: Wave of attacks in Baghdad leave 40 dead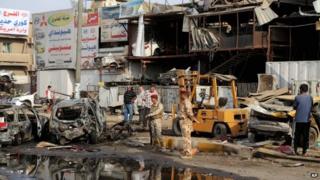 More than 40 people have been killed and dozens wounded in a series of attacks in mainly Shia areas of the Iraqi capital, Baghdad, officials say.
In the deadliest incident, two car bombs exploded simultaneously in the western district of Dawlai, killing 14.
No-one claimed responsibility for the attacks, but they bore the hallmarks of previous operations by Islamic State.
The Sunni jihadist group has seized large swathes of Iraq and is only 20km (12 miles) west of Baghdad's airport.
Troops backed by Shia militiamen and US-led air strikes have stopped IS advancing on the capital, but have been unable to push it back.
'Secure perimeter'
Prime Minister Haider al-Abadi declared in a televised speech at a military ceremony on Wednesday that Baghdad was "safe and the vicious terrorists can't and will not reach it".
"Our brave security forces have managed to secure Baghdad and its perimeter," he added.
But shortly after Mr Abadi spoke a suicide car bomb was detonated at a security checkpoint near a restaurant in the city's northern Talibiya district, killing at least nine people.
Forty-five minutes later, the two car bombs exploded in Dawlai.
Mortar rounds landed shortly afterwards in a residential area in neighbouring Shaoula, killing at least five people. Six others died when a car bomb exploded in nearby Hurriya.
Later on Thursday, officials said six people were killed when a car bomb exploded at a market in Mahmoudiya, a southern suburb of Baghdad.
A roadside bomb also blew up near an army patrol just south of the capital, killing two soldiers.
"[Islamic State] are making a statement to the Shia fighting them... We can target you in your household," Kareem al-Nouri of the Badr Organization, a powerful Shia political party with an armed wing, told the Reuters news agency.
Laying siege
Forty kilometres (25 miles) to the west of Baghdad, IS forces were said to be readying to attack the key town of Amariya al-Falluja, in Anbar province.
The jihadist group has already attempted twice to lay siege to Amariya al-Falluja, but have been repelled by government forces and allied tribesmen.
If IS takes Amariya al-Falluja this time, it will gain an important strategic advantage because the town connects two existing IS strongholds.
The group, which seeks to establish a caliphate across Iraq and neighbouring Syria, already controls the nearby city of Falluja and parts of the provincial capital, Ramadi.
The United Nations says more than 1,100 people were killed across Iraq in September. The number does not include Anbar province, from which it was unable to obtain casualty figures.