After Gaza war, Palestinians seek new path to statehood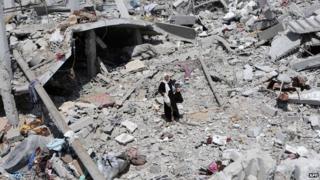 This summer's devastating war in Gaza refocused international diplomatic efforts and media attention on the Israel-Palestinian conflict.
However, this soon dissipated after a long-term truce was agreed on 26 August. The regional threat posed by Islamic State militants is now the stuff of daily news coverage.
But in the coming days, Palestinian officials hope a series of events will put their cause back in the spotlight.
At a donors' conference in Cairo on Sunday, President Mahmoud Abbas will seek $4bn (£2.5bn) for Gaza reconstruction.
A day later the British parliament is scheduled to hold a non-binding vote on whether the government should recognise Palestine as an independent state within the boundaries of the ceasefire lines which existed prior to the 1967 Middle East war.
Later this month there is a plan to ask the United Nations Security Council (UNSC) for recognition and to set a deadline for Israel to pull out from occupied Palestinian territory.
The latter two steps are likely to be little more than symbolic but the Palestinians hope to increase political pressure on Israel, which has recently continued to expand its settlements in the West Bank and East Jerusalem.
The settlements are considered illegal under international law, though Israel disputes this.
Israel dismisses what it describes as the Palestinians' unilateral actions saying a two-state solution can only be reached through negotiations.
Peace talks between the two sides broke down acrimoniously in April.
Rebuilding Gaza
The urgent need to rebuild infrastructure and tens of thousands of homes in Gaza following the latest fighting has been widely acknowledged but help has been slow to arrive.
On Thursday, the Palestinian Prime Minister, Rami Hamdallah, took a vital step to ensure the success of the upcoming aid conference by convening the first meeting of his cabinet in the coastal enclave.
His aim was to show that a new government - backed by rival political factions, Fatah and Hamas - is working.
It was set up four months ago to replace two administrations - one headed by Mr Abbas in parts of the West Bank and the other led by Hamas in Gaza.
Israel and a number of Western and other countries see Hamas as a terrorist group and will not allow it to handle reconstruction funds.
"The only way to have a long-term sustainable solution for Gaza is for the Palestinian Authority (PA) to assume full authority in Gaza," the US State Department spokeswoman, Jen Psaki told reporters in Washington.
"So we support this interim technocratic government in its efforts and we view this meeting as a positive step in that direction."
Although Israel opposed the Palestinian reconciliation deal and cited this as its reason for suspending the latest peace talks, it has recently shown willingness to work with the new cabinet.
On Thursday it allowed ministers from the West Bank to enter Gaza through the Erez crossing which had been shut for a Jewish holiday.
Under a UN-brokered agreement, Israel is also set to ease its very tight restrictions on building material imports.
UN inspectors and forces loyal to Mr Abbas will monitor distribution of these to ensure that Hamas militants cannot rebuild their network of cross-border tunnels used to attack Israel.
Bigger picture
While there are some encouraging signs that the humanitarian crisis in Gaza can be dealt with, efforts to solve the underlying problems between Israel and the Palestinians are far more problematic.
In the absence of a comprehensive negotiated settlement, Palestinians believe the best way to achieve a state in the West Bank and Gaza, with East Jerusalem as their capital, is through international recognition.
This week, Sweden's new government said it would officially recognise Palestine. Ahead of the vote by British MPs on 13 October on changing government policy, senior Palestinian official, Hanan Ashrawi, explained Palestinian strategy.
"We utterly reject the position of those who insist that Palestinian sovereignty is subject to Israeli approval," she told members of the British media in Ramallah.
"Our independence is a natural right as per international law and it is high time for freedom and justice to prevail."
She suggested there was a "historic responsibility by the British towards Palestine" as they held the mandate over what is now Israel and occupied Palestinian land from the early 1920s until 1948.
In 2012, 138 countries at the UN General Assembly voted in favour of upgrading the Palestinians' status to non-member observer state.
An earlier attempt to make Palestine a full member of the international organisation was blocked by the UN Security Council where the US - Israel's closest ally - had threatened to use its veto power.
The Palestinians know that their latest plan to return to the Security Council, which has been criticised by Israel, is very likely to fail. However, they hope for a show of support for statehood.
A draft resolution calls for an Israeli withdrawal from all occupied territory by November 2016 and for an international presence in East Jerusalem to protect the Palestinian population.
The Palestinian back-up plan is to sign the Rome Statute of the International Criminal Court to pursue legal action against Israel.
Both moves would stir up tensions with the US and other major donors to the Palestinian Authority. While they will raise the political profile of the Israel-Palestinian conflict, they are unlikely to bring a real peace deal much closer.