Syria declares new chemical weapons facilities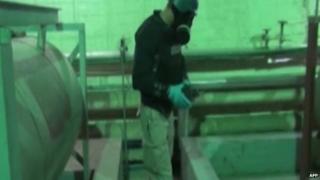 The UN Security Council has been told that Syria has revealed for the first time the existence of four more chemical weapons facilities.
Three of the sites are for research and another is for production.
Correspondents say the announcement heightens concerns that the Syrian government has not been fully open about its chemical weapons programme.
A mission to eliminate Syria's chemical arsenal was set up after a deadly attack outside Damascus in August 2013.
The joint operation by the UN and Organisation for the Prohibition of Chemical Weapons (OPCW) declared last week that it had completed its mandate, after removing or destroying all 1,180 tonnes of declared toxic agents and precursor chemicals.
However, it said it would continue to deal with the destruction of chemical weapon production facilities inside Syria and "the clarification of certain aspects of the Syrian initial declaration" made when it signed the Chemical Weapons Convention (CWC) last October.
'Keep pressure on'
The dismantling of Syria's 12 declared chemical weapons facilities is expected to begin this month, and the first should be destroyed by the end of November.
Briefing the Security Council on Tuesday, the joint UN-OPCW mission's special co-ordinator Sigrid Kaag revealed that no chemical agents had been found at the newly-declared research and production facilities.
US special representative to the UN Samantha Power tweeted: "Must keep pressure on regime so it doesn't hide CW capability."
US officials have said they are worried that the jihadist group Islamic State, which has seized large swathes of Syria, could get hold of undeclared chemical weapons.
Ms Kaag also noted the OPCW had found that chlorine had been used "systematically and repeatedly" in attacks in Syria, Ms Power said.
In each case, barrel bombs were allegedly dropped from helicopters on rebel-held areas. After they exploded, casualties displayed symptoms typical of chlorine poisoning, including sore eyes, irritated skin, breathing difficulties and bloody foaming from the mouth. Several people died.
Chlorine is a "dual-use chemical". It has many legitimate industrial functions, but its use as a weapon is banned by the CWC.