Yeganeh Salehi: Iranian journalist freed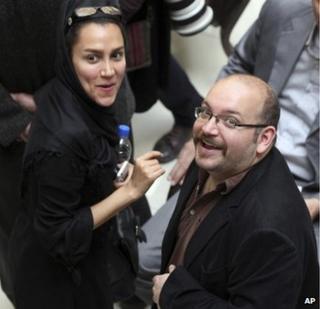 Iran has freed journalist Yeganeh Salehi, who was detained in July with her husband, Jason Rezaian, the Washington Post's Tehran correspondent.
Mr Rezaian, who holds dual US-Iranian nationality, remains in jail but his wife has been allowed to visit him, according to the Washington Post.
Mrs Salehi, an Iranian, works for the Abu Dhabi-based National newspaper.
It is still not clear why they were arrested and the US has called for Mr Rezaian's release.
Foreign Minister Mohammad Javad Zarif told US media last month that he was being questioned for "what he has done as an Iranian citizen".
An Iranian official said two months ago that the issue was linked to security. The couple were detained at home on 22 July.
"She has been freed," ministry of culture official Mohammad Koushesh told AFP news agency.
He also expressed the hope that Mr Rezaian would be freed soon but said any such decision would not be in the gift of his ministry, though it had done "everything possible".
'Pray'
Mrs Salehi, 30, was released last week but news of her release has just emerged.
Her family have expressed gratitude in a statement which also called for the freeing of her husband.
"We remain confident that Jason has committed no crime. We pray that the Iranian government will conclude that Jason should be released as well," the statement said.
US state department calls for Mr Rezaian, 38, to be freed have been rebuffed. Iran does not recognise dual citizenship.
Mr Rezaian's brother, Ali, described his condition as "physically healthy"; there have been concerns as he requires medication on a daily basis.
Iran and the US have had no formal diplomatic ties since the Tehran hostage crisis which began in 1979.
Another journalist with dual Iranian-US citizenship was arrested with her husband at the same time as Mr Rezaian and Mrs Salehi. Both were later freed.