Kurds wary of Turkey role in fight against Islamic State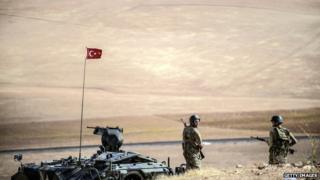 While the shelling of the Syrian town of Kobane continues and Turkish tanks sit idle, Kurds on either side of the border are inclined to be deeply sceptical of pledges from Ankara.
"I think it's a bluff. I don't see anything," said Ferhat Anik, a Kurd from the Turkish city of Mardin, when asked about the Turkish prime minister's apparent pledge not to let Kobane fall.
Anik is one of hundreds of Kurdish volunteers drawn to the border area in the past two weeks. They've come to express solidarity with their Syrian cousins. Some Kurds also try to smuggle aid or fighters across the border.
As he spoke, from a position overlooking the fence, occasional explosions could be heard in the distance. The eastern fringes of the besieged town came under shellfire again on Friday morning and puffs of smoke could be seen rising from a strategic hill above the town.
There were also occasional bursts of small arms fire, suggesting Islamic State (IS) fighters may once again be trying to enter Kobane.
An IS tank was also clearly visible, moving across agricultural ground no more than two or three kilometres from the edge of town.
Turkish Kurds like Ferhat Anik suspect that Turkey is happy to see Kobane fall, since this would represent a significant blow for the Syrian Kurdish YPG, and by extension its Kurdish ally in Turkey, the outlawed PKK guerrilla group.
Anything that keeps Kurds on the back foot, they believe, is good news for Ankara.
But despite the desperate plight of Kobane, Kurds are not looking for Turkey to send troops in to save it.
I asked Anik whether he wanted to see Turkish tanks, stationed right here on the border, within a few hundred metres of the besieged town, roll across the border and join the fight.
His answer was emphatic.
"It's the same thing if IS or Turkey take control of the area," Anik says.
"When the Turks move in, we know they have something else in mind," he adds, suggesting this would be a prelude to occupation.
"Turkey has been a big oppressor of the Kurds."
A call for arms
The legacy of decades of bloody conflict between Turkey and its own Kurdish population has left deep psychological scars and levels of mistrust bordering on paranoia.
Most Kurds are convinced that Turkey has been in league with IS from the start, allowing thousands of foreign fighters to pass easily through Turkish territory to join the fight in Syria.
That this has happened is undisputed, but Kurds also make wilder claims, including that Ankara has been secretly arming IS.
But if they don't want Turkish military intervention, what do the Kurds want?
"It's easy," says Anik. "Just give the YPG [Syrian Kurdish fighters] weapons and the YPG will stop ISIS.
"Kurds can secure the border by ourselves. We just need more weapons."
But this isn't going to happen. Mistrust and suspicion work both ways and it seems inconceivable that Turkey would choose to arm any Kurdish guerrilla group, on either side of the border.
The Turkish authorities have gone to great lengths to prevent aid, arms or volunteers crossing the border, resulting in tense encounters in which the police have used tear gas and water cannon.
Despite the Turkish prime minister's promise to do everything necessary to stop Kobane falling, few expect to see the tanks roll in. Turkey has its own reasons to be wary of getting entangled on the ground in Syria.
It's likely to press members of the US-led coalition to declare a no-fly zone, similar to that which existed in northern Iraq between 1991 and 2003, before considering any direct military intervention of its own.
This is unlikely to happen soon, if at all. Which means that apart from occasional coalition air strikes, the men and women defending Kobane are on their own.