Islamic State 'adapting to US-led air strikes'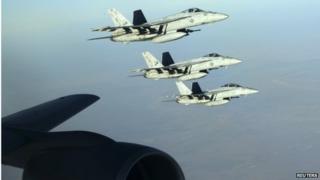 Nearly two months on since the US began air strikes against Islamic State (IS) positions in northern Iraq, there are signs that the militants are adapting to the new reality.
Witnesses and tribal sources in IS-controlled areas have told Reuters news agency of a drop in the number of militant checkpoints and fighters using mobile phones less, apparently to avoid being targeted by air raids.
Reuters also reported that militants have been seen to ditch conspicuous convoys of armoured vehicles in favour of motorcycles.
Analysts say that IS militants are known for their light mobility, enabling them to withdraw and regroup quicker than regular army troops.
"It's a well-tried and tested formula," said defence and security expert Paul Gibson, a retired British Army brigadier.
"Once [militants] start facing air strikes, the first thing they'll do is to reduce the targets available to the coalition forces. They will disperse and reduce their communications by mobile and radio so their electronic signature is reduced."
'Act in silence'
IS comprises many foreign fighters, and they bring experience of surviving other conflicts such as Afghanistan and Chechnya - and more recently Libya.
"I think they will learn very quickly on the ground as well as learning from other jihadists how to adapt to this new threat of air strikes. You talk on a mobile phone, you immediately get a bomb" says Brig Gibson.
New restrictions include a ban on the taking of pictures and filming by cameras and mobile phones "during the battles", according to an IS memo aiming preventing "undisciplined diligence" by fighters.
This memo, published by the General Committee of Islamic State, has been circulating on twitter under the hashtag "media secrecy campaign".
The directive states that filming will be restricted to certified "media personnel" in charge of "documenting and filming [the] battles" and warns that offenders will be prosecuted.
A new Twitter account believed to be behind the campaign says: "Act in silence and protect your mujahedeen bothers."
Other Twitter accounts have sprung up to explain to IS sympathisers how to comply with the order.
"Don't harm your brothers by advertising their movements," says one tweet.
"It's all right to publish pictures of past battles or to celebrate recent confirmed battles," explains another.
Another simply states "secrecy is not idleness".
IS is likely to aim to turn the local population against the coalition efforts, according to Brig Gibson.
"They will seek to hide themselves among the population. They will use buildings like hospitals, mosques and other facilities which if hit by the coalition forces will suffer collateral damage."
Images of civilians being hit in Iraq were previously used as a recruitment tool by jihadist websites and social media.
In the current context, with air strikes partly justified on humanitarian grounds, such images are likely to have a highly negative impact on the coalition's efforts.