Hitting Islamic State's oil operations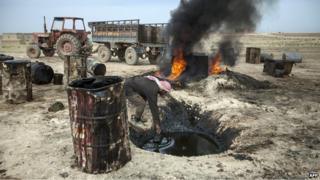 The US military's Central Command (Centcom) said the latest wave of air strikes by American, Saudi and Emirati jets and drones had targeted several small refineries in areas of Syria under the control of the Islamic State (IS).
These refineries and the fields supplying them with oil have played a vital role in fuelling IS military units and in generating an estimated $2m (£1.2m) in daily revenue for the group.
Damaging this infrastructure is clearly part of the wider strategy of the US and its allies of weakening IS's capabilities.
Centcom's statement suggested that the facilities it hit were producing between 300 and 500 barrels of refined petroleum per day. They were in Mayadin and Abu Kamal, in the southern part of the Euphrates Valley, and at al-Houl, in Hassakeh province, further to the north-east.
'Teapot refineries'
In the course of its dramatic offensives in Iraq and Syria in June, IS gained control of much of the oil infrastructure that had been relinquished by the Assad regime over the previous two years.
The prize assets were a cluster of fields in the Euphrates valley that had been operated by ventures including the Anglo-Dutch Shell and France's Total.
These fields - the largest of which are Omar and Tanak - produce light, low-sulphur, crude oil that is relatively easy to refine. Prior to the IS surge, the fields were controlled by the al-Nusra Front, an al-Qaeda affiliate, and local tribes.
However, the Euphrates Valley fields have been in steep decline since they peaked at about 400,000 bpd 10 years ago, and were only producing about 90,000 barrels per day (bpd) at the start of the uprising against the Assad regime in March 2011.
The geology in this area is complex, and the fields require the injection of large amounts of water to sustain production.
There are also no major refineries in this region - an issue of contention for many years between the local population and the Damascus government - and makeshift installations, commonly referred to as "teapot refineries", have been set up to enable the crude to be processed into fuels that can be used in vehicles or exported.
Pipeline cut
IS has also gained control of a number of fields in the southern part of Hassakeh province, that were operated by the state-owned Syrian Petroleum Company (SPC), including al-Houla, Shadada and Jbeissa.
However, Syria's largest fields, including Sweidiya and Rumailan, lie in northern Hassakeh, an area controlled by Kurdish groups, with a residual regime presence.
These fields are producing at a restricted level, sufficient to meet local requirements.
The main pipeline from Hassakeh to central Syria and the coast has been cut for more than two years. Syria produced 385,000 bpd in 2011, of which about 55% came from fields operated by SPC in the north-east. The oil from the SPC fields is also more difficult to refine.
The Centcom statement did not mention any attacks on oil facilities further north, at Manbij and Tal Abyad, which have grown over the past two years to be centres for trading, refining and smuggling oil.
This may reflect a recent shift in priorities by IS towards securing sufficient petroleum for its operations in Iraq following the closure of the Baiji refinery.
IS has been fighting to secure control of this refinery for months, as yet without success.
Co-ordination between rivals
Most of the oil smuggled from Syria's oil fields has been sold to traders in Turkey, and marketed within Turkey or further afield.
There have been persistent reports of oil trade between IS and the Assad regime, but the government relies mainly on oil supplied by tanker to the Baniyas refinery on the Mediterranean for its fuel supplies, supplemented by products transported by road from Beirut.
The supplies to Baniyas, estimated to average 100,000 bpd, are financed by an Iranian line of credit, and consist of a mixture of Iranian heavy grade crude and other lighter grades, including Iraq's Basra light, according to an investigation by Reuters news agency late last year.
There has been some co-ordination between the Assad regime and rebel groups, including IS, over the production and distribution of natural gas and the transmission of electricity.
Most of Syria's natural gas fields are located in the central region between Homs and Palmyra, which is broadly under regime control, and in Hassakeh.
Natural gas production has held up relatively well despite the conflict, averaging about 520m cubic feet per day in the first half of 2014, compared with 840m cu ft/day in 2011.
Almost all of Syria's power stations are located in regime-held areas, and so there is a common interest among all sides to the conflict in safeguarding gas and electricity supplies.
One blatant exception to this was the assault by IS on the al-Shaer gas complex, east of the city of Homs, in July, which was eventually repulsed by the regime.
The US and its allies will be able to disrupt IS's logistics and commercial activities through bombing the improvised refineries in the group's area of control.
However, any raids on the underlying infrastructure in oil and gas fields themselves would be more controversial, as they would entail attacking Syrian sovereign assets.
David Butter is a writer on energy and the political economy of the MENA region and an associate fellow at Chatham House