Syrian Kurds flee IS militants: 'We ran to save our lives'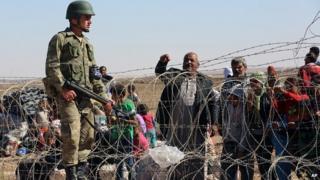 More than 130,000 Syrian Kurds have crossed into Turkey in recent days. The UN High Commissioner for Refugees (UNHCR) says this has been the largest influx of refugees in such a short period since the start of the Syrian conflict in 2011.
They are fleeing an advance by Islamic State (IS) militants, who have seized swathes of Iraq and Syria in recent months.
People have left behind everything, including phones and computers, making communication difficult.
A Syrian journalist, Ibrahim Al Koubani, is one of the refugees. He spoke to our reporter, Shereen Sherif, and then passed around his phone so that his fellow Kurds could share their experiences. Here are their stories:
---
Ibrahim Al Koubani
I am a journalist from Kubani in Syria and I am now also a refugee.
The Turkish security closed the border on Sunday. They opened it the next day but only long enough for a few people to cross. The guards close the border within seconds sometimes.
I watched as a woman ran ahead of her family and she managed to cross but her daughter hadn't run fast enough and now they are separated, waiting for the border to open again.
Thousands of Syrian refugees are waiting all the way along the border which is 25 miles (40km) wide. Some Turkish Kurds came to support the Syrian Kurds with supplies of food and water but the police didn't allow them to help.
Most people who cross the border to the Turkish side are homeless and don't have the basics needs. It's getting cold here but the Turkish government has said it will provide blankets.
---
Goulizar Mahmoud
My family and I hoped for some kind of international intervention but none came and we have had to leave our home.
I left my village on Sunday and arrived at the border on Monday morning. We waited at the border for six hours until they opened it and we could cross into Turkey. My husband and I don't know what to do now. Maybe we will go to Istanbul because there is nowhere else to go.
---
Nihad Mahmoud
I'm hungry and homeless. I left Syria on Saturday and two days later I reached the Turkish border.
I am desperate and separated from my family. There is no food here, no water and no shelter. I sleep on the street.
---
Mahmoud Shikh Noah
I crossed the border from Syria to Turkey on Monday. I had to wait a day at the border as they closed it on Sunday morning. About 50 refugees managed to cross at the same time as I did.
The border is very long but most of the crossing points have now been closed. Syrian Kurds desperate to flee IS fighters are gathering in front of them but they can't enter.
I don't know what I will do next. I don't have anything at all. We left everything behind as we ran to save our lives.
Interviews by Shereen Sherif