Yemen clashes fuel fears of all-out sectarian war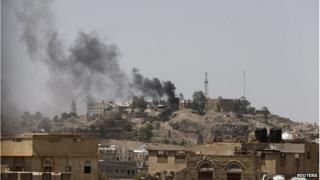 Violence has flared again in Yemen, and though a deal to end the conflict between the government and an armed Shia movement has now been announced, the fighting has left locals nervous that even greater trouble lies ahead.
The Yemeni capital, Sanaa, was quiet on Friday evening, the tense calm broken only by the sound of fighter jets flying low over residential areas.
The streets were emptier than usual, with many Yemenis staying at home or leaving the capital altogether.
There is fear that intermittent street battles between the armed Shia Houthi movement and tribal and Sunni Islamist militias might escalate further.
Following serious clashes between armed groups on Thursday and Friday, hundreds of Yemenis have had to leave their homes. Many others are stranded in their houses unable to go out and buy food and supplies.
"Most of the neighbourhood has left and most shops have closed," says Samir al-Miqbaly, a small grocery owner near the headquarters of Yemen TV, the state broadcaster, where clashes have taken places for the past two days.
"The sounds of shelling are very strong and the fighting is so intense that we could feel our houses shaking."
Even in the relatively calm area of Hadda, one resident and mother-of-three is worried about sending her children to school next week.
One issue in particular is causing her concern: "Where is the government in all of this?" she asks.
Yemenis are no strangers to armed conflict - many here carry weapons - but this conflict has left residents of one of the poorest countries in the Middle East more worried than at any other time since the 2011 uprising.
What is happening?
Over the past few weeks Houthis and their supporters have been staging protests and sit-ins in Sanaa, demanding a re-instatement of fuel subsidies and calling on the country's transitional government to step down.
The protests in Sanaa remained relatively peaceful until 9 September. Then security forces opened fire on Houthi demonstrators approaching the cabinet office, killing seven people and injuring many.
Tensions escalated further on Thursday (18 September) after attempts by Houthi militants to seize the area around the Yemen TV building prompted heavy armed confrontation with armed militias linked to the Sunni Islamist Islah party.
Powers at play
The fighting in Sanaa has both sectarian and tribal political elements, along with a strong line in personal vengeance.
A renegade military commander, General Ali Mohsen, who is now mobilising his heavily armed forces, has been at the centre of long-running battles with the Houthi militias in the north of Yemen for 10 years.
He is also a former ally of ousted President Ali Abdullah Saleh, whose 33-year rule was ended by the 2011 uprising.
Islah became a powerful part of the new power structure in Yemen after Mr Saleh's ousting. It has also supported the war against the Houthis, with senior figures backing militias.
Sceptics of the Houthi agenda, including Islah, say that the group is trying to take over the government.
But Ali al-Bukhaiti, a member of the Houthi political wing, says that in a heavily armed country led by a weak government, "balance of power is the only thing that could bring peace".
Deal or no deal?
Following unsuccessful attempts by the government to reach a deal with the Houthis, UN special envoy Jamal Benomar arrived in Yemen last week to try to reach an agreement to end the conflict.
But it remains unclear whether or not the Houthis will agree to withdraw from Sanaa before their demands are met.
After last week's attack on Houthi protesters, those demands now include a special investigation into the violence in front of the cabinet office.
After returning on Friday from the Houthi base in northern Yemen, Mr Benomar said an agreement had been reached "on a set of points that shall form the basis of an agreement between the relevant parties".
Political analyst Abdul Ghani al-Iryani said he was confident of a deal to put an end to the fighting.
However, he cautioned that it would not see all armed Shia militias leave the capital because "some of those who joined the armed group are from Sanaa."
Today this impoverished Arab country looks like a nation holding its breath, fearful that clashes could turn into an all-out armed conflict.
That could plunge a heavily armed population into a sectarian war with echoes of the conflicts in Syria or Iraq.