Family of Briton Ghavami held in Iran appeal for release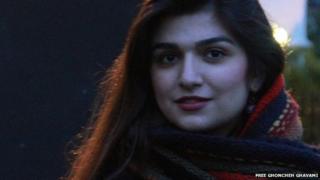 The family of a British-Iranian woman being held in Iran after going to a men's volleyball match have appealed for her release.
Ghoncheh Ghavami, 25, was detained after the match in June. Her family say they do not know if she is being held under any charge.
She is now reportedly being held in Tehran's infamous Evin prison.
The UK Foreign Office said it was aware of reports of a Briton being detained and is "following up" the case.
The FCO says it has "limited ability to assist [UK nationals] in any difficulty" in Iran and that the Iranian authorities are "unlikely to grant any consular access".
Ms Ghavami was initially arrested after the match, which took place on 20 June.
There was a protest at the time against a ban on women attending, but her brother Iman told BBC 5 Live Breakfast that she was "simply there to get into the stadium and watch the match".
She was released but then re-arrested when she went to collect her belongings a few days later.
Mr Ghavami said his sister had not been able to see her lawyer since she had been detained but her parents had been allowed to see her some 50 days after her arrest.
She has spent part of her detention in solitary confinement.
"She is certainly experiencing a nightmare. Everyone wants it to end," Mr Ghavami added.
A ban on women attending football matches has been in place since 1979 and in 2012 was extended to volleyball, according to Amnesty International.
The organisation says the ban became a matter of renewed controversy on 13 June, when at a match between Iran and Brazil, Brazilian women were permitted to watch the match and cheer on their team but Iranian women were prevented from doing the same.