Syria crisis: Chlorine gas used in attacks, says OPCW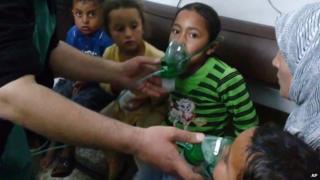 Chlorine gas was used in attacks in northern Syria this year, says the international body seeking to implement global laws banning chemical weapons.
The Organisation for the Prohibition of Chemical Weapons (OPCW) said it had found "compelling confirmation" of the use of chlorine, in pure or mixed form.
The attacks took place earlier this year in villages where rebels have been fighting government forces.
The OPCW has been overseeing efforts to destroy Syria's chemical weapons.
Over the past year, Syria's declared stockpile of banned munitions was shipped out of the country and destroyed, under the terms of an international agreement.
However, Syria was not obliged to declare any stockpiles of chlorine, regarded as a weak toxic agent.
The latest OPCW report said a toxic chemical was used "systematically and repeatedly" in the villages of Talmanes, Al Tamanah and Kafr Zeta in northern Syria.
The report concludes "with a high degree of confidence" that the chemical in question was chlorine gas.
It says this conclusion was based on a study of the symptoms of people who were exposed to the gas, their response to treatment, as well as descriptions of the properties and behaviour of the gas.
An OPCW team tried to visit one of the villages, Kafr Zeta, in May to gather evidence, but had to turn back after its convoy was attacked, the report noted.
Government and opposition forces have accused each other of using poison gases in the village in April.
A UN report released in August said the Syrian authorities had used chemical agents earlier this year.