Syria conflict: Fiji's mixed messages over UN peacekeepers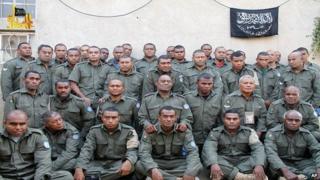 Fiji's military says 45 UN peacekeepers captured in Syria's Golan Heights in August will be released this week "without preconditions".
The troops were seized by rebels from the al-Qaeda-affiliated al-Nusra Front.
Brig Gen Mosese Tikoitoga said that Fiji had been informed of the imminent release of its soldiers by the UN headquarters in New York.
But a government spokesman in the Fijian capital Suva denied the reports and said negotiations were continuing.
"I don't think so... someone has misinterpreted," Dan Gavidi told the Agence France-Presse news agency when asked about the reports from New York.
In his earlier statement, Gen Tikoitoga did not give further details of the expected release date or location.
He said that Fiji's actions in the Golan Heights over the years "had not gone unnoticed by the Syrian people" and had helped contribute to the outcome.
Asked about the reports of a breakthrough, UN spokesman Stephane Dujarric said he had "nothing new to report on the Fijians", AFP said.
Release demands
Syrian pro-government forces and rebels have repeatedly clashed near Quneitra in the Golan Heights region.
Rebel forces seized control of the Quneitra crossing last Wednesday.
The al-Nusra Front has issued several demands as a precondition for the release of the Fijian soldiers, including dropping the group from the UN's list of terrorist organisations.
The group said they were seized because the UN was "ignoring the daily shedding of Muslims' blood in Syria" and co-operating with government forces to "facilitate its movement to strike the vulnerable Muslims" in the demilitarised zone.
Two groups of Filipino peacekeepers were also surrounded in the same attack in August but managed to escape into Israel.
This is not the first time UN Disengagement Observer Forces (UNDOF) personnel have been detained by rebel fighters in recent years. Peacekeepers were detained in March and May 2013, and were subsequently released unharmed.
Israel seized most of the Golan Heights in the closing stages of the 1967 Six-Day War, and thwarted a Syrian attempt to retake it in 1973. Both countries signed an armistice in 1974, after which Undof was put in place to monitor the demilitarised zone.