Abbas warns Hamas on unity deal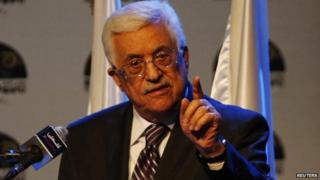 Palestinian President Mahmoud Abbas has warned Hamas it must change the way it operates in Gaza if it wants to continue in a unity government.
Mr Abbas criticised the "shadow government of 27 deputy ministers" running Gaza, insisting that there must be "one regime".
Gaza is recovering after a devastating 50-day conflict with Israel.
More than 2,100 Palestinians died in Gaza, along with 66 Israeli soldiers and seven civilians in Israel.
Hamas, which controls Gaza, and Fatah - Mr Abbas's faction that dominates the West Bank-based Palestinian Authority - had been embroiled in years of bitter rivalry until signing a reconciliation deal in April.
Hamas's government officially stepped down when the unity cabinet took office in Ramallah on 2 June, but it remains in de facto control of Gaza.
Much of the unity agreement has yet to be put into effect.
'100 times worse'
Mr Abbas said on arriving for talks in the Egyptian capital, Cairo: "We cannot continue working with Hamas this way. There are 27 undersecretaries of ministries who are running the Gaza Strip, and the national unity government cannot do anything on the ground."
Israel's Haaretz newspaper quoted Hamas spokesman Sami Abu Zuhri as saying that Mr Abbas's remarks were based on faulty information and talks would continue to try to reconcile differences with Mr Abbas's Fatah faction.
Mr Abbas said the Palestinian leadership was "doing everything it can to ease the suffering of the Palestinian people in Gaza".
He said Gaza had sustained heavy economic losses and needed $7bn (£4.2bn) and 15 years to rebuild what was destroyed.
Mr Abbas said the losses were "100 times worse" than in the Israel-Gaza conflicts of 2009 and 2012.