US rules out military co-operation with Iran against IS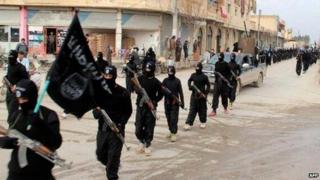 The US has said it has no plans for any military co-operation with Iran to fight against Islamic State (IS) militants in Iraq.
A US state department spokeswoman said Washington would also not "share intelligence" with Iran.
Iranian sources earlier told the BBC Iran's Supreme Leader Ayatollah Ali Khamenei had authorised one of his top commanders for such contacts.
But Iran's foreign ministry also denied the report as incorrect.
Iran has traditionally opposed US involvement in Iraq, an Iranian ally.
"We don't co-ordinate military action or share intelligence with Iran," state department spokeswoman Marie Harf said.
"Of course, we're open to engaging them, as we have in the past, most notably on Afghanistan. But we will not be co-ordinating our actions together," she added.
The Iranian sources earlier said Ayatollah Khamenei had sanctioned Gen Qasem Soleimani, the commander of the Quds Force - an elite overseas unit of the Revolutionary Guards - to work with forces fighting IS, including the US.
Iran's foreign ministry spokeswoman Marziyeh Afkham told Iran's Press TV that Iran had been critical of the way Washington launched air strikes on IS only after US interests came under threat.
Shia Iran sees the extremist Sunni IS group, which views Shias as heretics, as a serious threat.
Last month US air strikes helped Iranian-backed Shia militia and Kurdish forces break a two-month siege by Islamic State of the Shia town of Amerli.
IS has taken over swathes of northern and western Iraq and eastern Syria in recent months.
US forces began carrying out air strikes on IS positions in August after they took over several cities in northern Iraq.
The brutality of IS - including mass killings and abductions of members of religious and ethnic minorities, as well as the beheadings of soldiers and journalists - has sparked outrage across the world.
Last month Iraqi and Kurdish forces pushed IS back from parts of northern Iraq, but the group still controls what it has declared as a caliphate stretching across Syria and Iraq.
Since the Islamic revolution in 1979, the US and Iran have had a fraught relationship.
Washington severed ties the following year after Iranian students occupied the US embassy in Tehran and took 52 Americans hostage.