Egypt power cut disrupts Cairo rush hour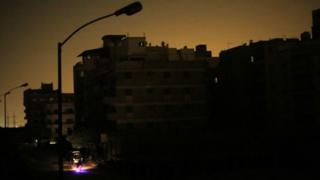 A power cut has triggered blackouts across most of Cairo, causing major disruption across the Egyptian capital at the height of the morning rush hour.
Services on one of the city's metro lines were suspended and several TV channels were knocked off air.
Energy ministry spokesman Mohammed al-Yamani said the power cut was due to a "malfunction" in a western district.
Power was being restored, he said, but the city centre and several outlying areas were still without hours later.
The authorities have imposed daily rolling blackouts across the country in recent months, but Thursday's power cut is reportedly the most extensive in Cairo in years.
Egypt's electricity network is frequently overloaded during the summer, when people switch on air conditioning and fans to help cope with temperatures regularly exceeding 40C (104F).
The energy supply problems are reportedly linked to ageing infrastructure, dwindling local gas production and a struggle to pay off debts to foreign oil and gas companies.