Yemen president dismisses government to end stand-off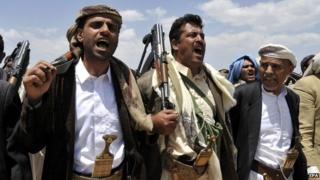 Yemen's president has dismissed his government and promised to review fuel subsidy cuts in a bid to end a stand-off with Zaidi Shia rebels.
Abdrabbuh Mansour Hadi would name a new prime minister to form a national unity administration, state media reported.
However, the initiative was rejected by the rebels, who are known as Houthis.
Thousands of their supporters have been holding protests across the country for weeks, calling on the government to be dissolved and the subsidies restored.
The Houthis have staged periodic uprisings since 2004 in an effort to win greater autonomy for their northern heartland of Saada province.
They consolidated control over Saada during the 2011 uprising that forced long-time President Ali Abdullah Saleh to step down, and since July have inflicted defeats on tribal and militia groups backed by the leading Sunni Islamist party, Islah, in neighbouring Amran province.
In mid-August, the Houthis' leader Abdul Malik al-Houthi demanded that President Hadi reverse a decision taken in July to remove subsidies that had hit the country's poor and that he replace the "corrupt" government with a body that better represented Yemen's various factions.
Since then, thousands of supporters have taken part in sit-ins in front of government buildings in Sanaa and demonstrations in the city's Change Square, where a protest camp was set up during the 2011 uprising.
On Sunday, Mr Houthi called for a campaign of civil disobedience and the expansion of protests. He warned: "If our demands are not met there will be decisive measures that we will talk about in time."
'Legitimate' demands
During a meeting of ministers and representatives of pro-government political parties on Tuesday, the president announced that he had agreed to go ahead with an initiative submitted by a committee to examine how to resolve the crisis peacefully, the official Saba news agency said.
Mr Hadi said he would appoint a new prime minister within a week, after which factions would nominate from their own ranks ministers in the national unity government, it added. However, the president will choose the defence, interior, finance and foreign ministers.
He also plans to reduce petrol and diesel prices by 30%.
"The nation is passing through tough times," Mr Hadi was quoted as saying. "It is standing at a crossroads: either walk the path of life, development, and a new Yemen, or chaos, lawlessness and the unknown."
Shortly afterwards, Houthi spokesman Mohammed Abdul Salam wrote on Facebook: "We do not agree to it. Our position is still that we stand by the Yemeni people who have gone out in a blessed popular revolution to demand their legitimate and just rights."
President Hadi's political adviser Faris al-Saqqaf later said the rebels had surprised him by reacting in what he called a harsh and swift manner.
"It shows that the Houthis have other goals and are using the subsidies as a pretext to execute another agenda," he told the Associated Press news agency.
A senior security official said the government believed the rebels were plotting a Ukrainian-style revolution in Sanaa and that they planned to storm the cabinet and parliament buildings in the coming days.
On Friday, the UN Security Council demanded the rebels dismantle their camps around the capital and pull back from areas of Amran province that they are occupying.